The restaurant is located in the noble area of the village Sertã, next to the Philippine bridge that gave it its name, flanked by leafy gardens and the Sertã and Amioso rivers. The cooking is intimately linked to the cultural roots and embodies all that was done best for generations in these parts.
Infrastructure
Adapted for people with reduced mobility
Surrounding Area
River beach of Ribeira Grande at 623m
River beach of Troviscal at 9.6km
River beach of Pego das Cancelas at 9.8km
River beach of Bostelim at 10.1km
River beach of Aldeia Ruiva at 10.7km
River beach of Malhadal at 11.5km
Philippine bridge at 11.7km
Misericórdia Chapel at 11.7km
Information
Open from Tuesdays to Sundays from 12.00 to 3.00 pm and from 7.00 to 11.00 pm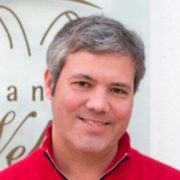 Host
Hélder Marçal
Helder Marçal is unanimously considered a professional of excellence in the performance of his duties and a role model for all those who work with him. He works with a keen sense of aesthetics and has a combative character, inherited from a family that never gave way in the face of adversity. Linked to the restaurant business from an early age, he also manages human resources for Santos & Marçal, the company that runs the restaurant.
Location
Rua do Convento, 12, Sertã 6100-597
Latitude: 39.801944421499
Longitude: -8.0993448134918