Santo Amaro offers an intimate and exquisite atmosphere with exceptional menus and excellent service. Inspired by the name of the saint invoked in the nearby chapel, Santo Amaro is the natural choice for those who appreciate good regional cuisine and seafood. It is the mother house of the Sertã. Let yourself be carried away by the rich local and regional products, prepared by those who know and respect the cycles of nature.
Infrastructure
Adapted for people with reduced mobility
Surrounding Area
River beach of Ribeira Grande at 591m
River beach of Troviscal at 9.6km
River beach of Pego das Cancelas at 10km
River beach of Bostelim at 10.1km
River beach of Aldeia Ruiva at 10.9km
Philippine bridge at 11.5km
Misericórdia Chapel at 11.5km
Parish Council building at 11.5km
Information
Open from Thursdays to Tuesdays from 12.00 to 3.00 pm and from 7.00 to midnight.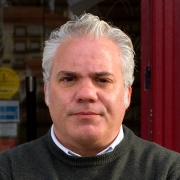 Host
Emanuel Marçal
Those who work with him recognize his spirit of leadership but especially his shrewdness and work ethic. He worked in his family business from an early age - an ideal preparation for the challenges he now faces at Santos & Marçal. In addition to being closely linked to the restaurant business, he is also responsible for the company's financial and economic affairs.
Location
Rua dos Bombeiros Voluntários, Sertã 6100-750
Latitude: 39.803441364479
Longitude: -8.1015128134918