There's no better way to start working and getting to know the wood than through carving. You'll be using a set of gouges to make a piece of your own design.

The work will be carried out in chestnut wood, native to the Lousã mountain range and very uniform in its growth. Children from the age of 6 can attend this workshop provided they are accompanied by an adult.

Requirements
This experience does doesn't have any features configured
Surrounding Area
Nossa Senhora de Fátima Chapel at 0m
Nossa Senhora da Piedade Shrine at 9.8km
River beach of nhora da Piedade at 3.5km
Santo António da Neve at 4.1km
Oven and still set of theClaro Family at 4.3km
Maternity home for trees at 25.2km
Coirela das Agostinhas Centre at 25.2km
Information
Includes materials.
Duration 2h 30m.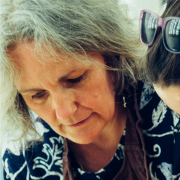 Host
Kerstin Thomas
Kerstin Thomas has lived in Cerdeira for more than 30 years. She's a wood sculptor and is part of a team of artists who make up the Schist Villages Craft Council. They are the group of trainers from Cerdeira Village Art&Craft. Be part of this artistic and cultural project. Cerdeira has excellent working conditions and opportunities ranging from small experimentation workshops to initiation courses, masterworkshops and artistic residences.
Location
Lugar da Cerdeira 3200-509
Latitude: 40.0936
Longitude: -8.19464