The sculptor Kerstin Thomas and the sculptor and ceramist Renato Costa e Silva are the guides for the Carving Workshop in Madeira, taking place in Aldeia do Xisto da Cerdeira on the 13th and 14th of January 2024.

This course is a creative approach to woodcarving as a means of personal and artistic expression. After an introduction to techniques and raw materials, each participant will develop their own project, accompanied and supported step by step by the trainer, in an environment of friendship, cooperation and mutual help.

So, participants will:
. Know and handle the main hand tools;
. Understand the characteristics of wood;
. See and think creatively;
. Have notions of tool maintenance;
. Learn safety notions.

Registo Nacional de Agente de Animação Turística n.º 135/2021
Requirements
This experience does doesn't have any features configured
Surrounding Area
Nossa Senhora de Fátima Chapel at 47m
PR4 LSA - Schist Walking Trail Lousã - Rota das Quatro Aldeias at 1.7km
Nossa Senhora da Piedade Shrine at 3.4km
River beach of Senhora da Piedade at 3.5km
PR 2 LSA - Schist Walking Trail Rota das Aldeias do Xisto da Lousã at 3.6km
PR5 LSA - Schist Walking Trail Lousã - Rota dos Serranos at 3.6km
Information
Schedule:
10h-13h and 15h-18h

Conditions:
• Enrollments up to 1 month before the course start date.
• Special discount for our community members.


Includes:
• Integration in a small workgroup (from 4 to 6 participants)
• Training 5-6 hours a day, speaking in English and Portuguese;
• Studio open 12 hours a day;
• Lunch on course days;
• All the materials needed for the course;
• Free accommodation in our shared residences during the course (upon availability). The residences are equipped with a dormitory, kitchen, shared bathrooms, washing machine, towels, bed linen, and wi-fi;
• 10% discount on the base rate when booking an individual house (minimum of 2 nights). The base rate refers to a stay of 2 people and includes breakfast, equipped kitchen, towels, bed linen, and wi-fi.

All prices shown include VAT at the legal rate in force.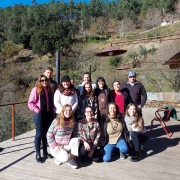 Host
Equipa Cerdeira Home for Creativity
Situated in the beautiful mountains of Serra da Lousã, in central Portugal, Cerdeira is the perfect Schist Village for your next getaway. Here, the unique relationship between nature, art and comfort offers the freedom to live, relax and create in a truly authentic way.

The Cerdeira Home for Creativity project emerged from the love and affection of two families who decided to rebuild the traditional houses of the village, maintaining their authenticity and uniqueness. These two families were joined by several people who are in the village every day to welcome you with a smile.
Location
Lugar da Cerdeira 3200-509
Latitude: 40.09401858061
Longitude: -8.1946507288361