From 24 to 28 October, develop your artistic expression through drawing on this 5-day retreat, with the best teacher of all - Nature. The forest surrounding the village of Cerdeira is full of texture, light and shade, marks and qualities of line. The main objective of the course is to develop and enrich your expressive ability through drawing. Structured drawing classes will be delivered, with technical demonstrations, exercises, lectures and projections of images focusing on art history and on contemporary practice related to drawing in and working from nature.

We will have work spaces for the group and also for individual practice. There will also be time for work on creative projects to explore simple ways of working with personal content. Learning to draw is a process of discovery. It takes time, patience and practice, but it can open up new ways of seeing the world, our senses and capacities and an understanding of the legacy of so many drawers throughout the history of art.
Requirements
This experience does doesn't have any features configured
Surrounding Area
Nossa Senhora de Fátima Chapel at 69m
Nossa Senhora da Piedade Shrine at 3.3km
River beach of nhora da Piedade at 3.4km
Santo António da Neve at 4.2km
Oven and still set of theClaro Family at 4.3km
Maternity home for trees at 4.6km
Coirela das Agostinhas Centre at 4.6km
Information
Data: 21 a 25 agosto
Horário: 9h30 - 13h00 / 14h30 - 16h30
Oferta de alojamento nas Residências partilhadas com a inscrição no curso, mediante disponibilidade.
Não inclui refeições.
Este curso adequa-se melhor a quem já tenha uma experiência mínima de desenho.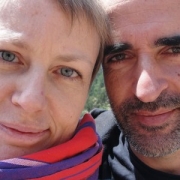 Host
Bodil Eide e Paulo Borges
Bodil and Paulo have been teaching together since 2007. They are members of an international community studying with the South African artists Rose Shakinovsky and Claire Gavronsky (rosenclaire) in Florence, Italy. Bodil was trained by them as a teacher for initiation in advanced level drawing, painting, sculpture and contemporary artistic practice. They are graduates, respectively, in Fine Art (KHIO, Oslo, Norway) and Communication Design (FBAUL, Lisbon). Together they have more than 15 years' experience in the structured teaching of drawing, painting, sculpture and creativity, with a target audience of beginners, plastic artists, such as children and young adults.
Location
Lugar da Cerdeira, Lousã 3200-509
Latitude: 40.094108037147
Longitude: -8.1954690489349