Part of the ZêzereTrek Off Track experience, a set of activities off marked routes, using tracks exclusively designed to uncover the best kept secrets of the Centre of Portugal.
The Ribeira do Codes Valley was a focal point of gold prospecting in Roman times and there are still significant remnants of this activity that mark the landscape. The riverside gallery is also impressive - the vegetation maintains the character of the native natural forest, forming more or less closed corridors of rich biodiversity. Between the playful bubbling of the water, with the backdrop of imposing outcrops and quartzite crests, this "Off Track" route will take us to one of the Seven Wonders of Portugal: the River Beach of Penedo Furado, a place of indescribable natural beauty.
Surrounding Area
Água Formosa source at 2km
Aldeias do Xisto Shop in Água Formosa at 2km
River beach of Penedo Furado at 3.9km
River beach of Pego das Cancelas at 10.9km
River beach of Cardigos at 11.6km
River beach of Bostelim at 12km
River beach of Zaboeira at 12.4km
River beach of Fernandaires at 14.6km
Information
Programme:
09:30 - Participants to gather at Largo da Escola Primária, Lousa, Vila de Rei
13:00 - End of the Activity

Includes:
- guide
- snack
- insurance
- transportation back to the village of Lousa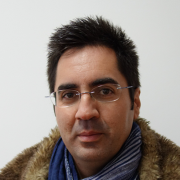 Host
Bruno Cardoso
I arrived in this area for professional reasons related to forestry. I found the features of the local landscape much more exciting than anything else I had found in the country. I worked with other local tourist companies until, in 2015, I decided to set up my own project. I really like to give a personal stamp and a different service, to show that this territory has enormous treasures to see and explore, that only a local company will be able to unearth and show.
Location
Lousa, Vila de Rei
Latitude: 39.624203
Longitude: -8.118991