A stay in the Aldeia do Xisto of Cerdeira, surrounded by the amazing landscapes of the Serra da Lousã, will surely inspire you. You will feel the need for a little notebook for your notes, poetry and drawings.

Under the tutelage of the Cerdeira - Home for Creativity team, you will learn the technique of binding by hand to suit your tastes, using traditional Japanese methods and some decoration, to produce a unique notebook full of personality.

At the end of the session, you will take home a copy of each type of binding.

For a fuller experience, you can stay in one of the 9 rural tourism houses fully prepared and equipped to offer you a high-quality stay. Six of them have been decorated by prestigious artists who created unique pieces to give a special character to each of the spaces.

Requirements
This experience does doesn't have any features configured
Surrounding Area
Nossa Senhora de Fátima Chapel at 0m
Nossa Senhora da Piedade Shrine at 3.4km
River beach of nhora da Piedade at 3.5km
Santo António da Neve at 4.1km
Oven and still set of theClaro Family at 4.3km
Maternity home for trees at 4.6km
Coirela das Agostinhas Centre at 4.6km
Information
- Price: 30€/person
- What's Included: All required materials
- Duration: 3h
- All year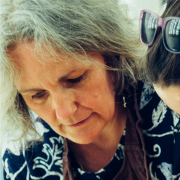 Host
Kerstin Thomas
Kerstin Thomas has lived in Cerdeira for more than 30 years. She's a wood sculptor and is part of a team of artists who make up the Schist Villages Craft Council. They are the group of trainers from Cerdeira Village Art&Craft. Be part of this artistic and cultural project. Cerdeira has excellent working conditions and opportunities ranging from small experimentation workshops to initiation courses, masterworkshops and artistic residences.
Location
Lugar da Cerdeira, Lousã 3200-509
Latitude: 40.0936
Longitude: -8.19464