The Walking Weekend is coming back to Pampilhosa da Serra from 17 to 19 May and the Casa do Centro is inviting you for a 2-night stay for 4, so that you can experience this event in full comfort.

The Casa do Centro, four independent accommodation units, is located in the village of Pessegueiro, about 12 km from Pampilhosa da Serra. In addition to the surrounding nature, the accommodation is enhanced by the peace and quiet of the Pessegueiro River Park, where the quality of water is a major attraction to visitors.

This stay is valid for the Oliveira, Mel and Castanheiro houses. The decoration of each of the houses pays tribute to the endogenous products of the region from which they take their names. These T1 units have a double bedroom, fully equipped kitchen, wc and a pleasant living room with sofa bed. The quiet and comfortable surroundings will provide you with unforgettable memories, with the singing of the birds as a soundtrack.
Requirements
This experience does doesn't have any features configured
Surrounding Area
River beach of Pessegueiro at 104m
Aldeias do Xisto Shop in Pampilhosa da Serra at 5.7km
River beach of pilhosa da Serra at 6.1km
River beach of Álvaro at 9.8km
Schist Villages shop in Álvaro at 9.8km
Chapel of S. Sebastião at 9.9km
St. Tiago Maior Parish Church at 9.9km
Schist bridges over the river Alvelos at 9.9km
Nossa Senhora da Nazaré Chapel at 9.9km
Misericórdia Church at 9.9km
Information
2 nights for 4 in Casa do Centro (Casa da Oliveira, Casa do Mel, Casa do Castanheiro)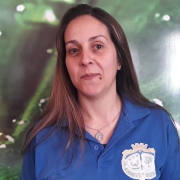 Host
Paula Freitas
Paula Freitas welcomes you to Casa do Centro, in the River Park of Pessegueiro, Pampilhosa da Serra. Under the responsibility of the Parish of Pessegueiro League of Improvements, it consists of 4 units to meet the growing demand for accommodation in the welcoming Pessegueiro River Park. Casa do Centro's aims to guarantee a pleasant and unforgettable stay in full comfort with time for recreation and relaxation.00
Location
Av. José António Arrosa, 3 Pessegueiro, Pampilhosa da Serra 3320-312
Latitude: 40.052421
Longitude: -8.022049