Origem Safaris challenges you to discover the area with the help of a standard paper map. Discover the Aldeia do Xisto of Fajão, where you can visit the Monsenhor Nunes Pereira Museum, the communal oven, the public laundry and the old primary school. In the Aldeia do Xisto of Janeiro de Baixo, you will find religious and architectural heritage and the "Tronco", where animals were once shoed. Nearby, at the Santa Luzia Dam, built between two huge cliffs, you will find one of the most impressive landscapes of the region.

The Mountain Bike Safari is available as a half day (4h) or a full day (7h). You'll have a great time whichever you choose.

Licença RNAAT326/2014
Requirements
This experience does doesn't have any features configured
Surrounding Area
Monsenhor Nunes Pereira Museum at 14m
São Salvador Chapel at 14m
Nossa Senhora da Guia Chapel at 14m
Restaurante O Pascoal at 99m
PR9 PPS - Caminho do Xisto Pampilhosa da Serra - Rota do Velho Unhais at 5.9km
Centro BTT Pampilhosa da Serra - Casal da Lapa at 8.9km
PR8PPS Caminho do Xisto da Pampilhosa da Serra Rota do Rio Unhais at 8.9km
Dam river beach of Santa Luzia at 9.1km
Information
Year round, 09:00 to 18:00

Including:
Helmet
Tacometer
Map
Insurance

The bike has to be picked up from and returned to the Origem Safaris shop in Fajão.

All prices include VAT at the legal rate in force.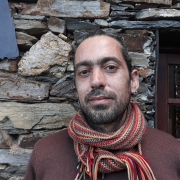 Host
António Matos
António Matos is an entrepreneur of tourism in sparsely populated areas. He is the co-founder of Origem Safaris, a local guide, interpretative guide and mountain guide.
Location
Fajão, Pampilhosa da Serra
Latitude: 40.14938
Longitude: -7.922244