The Penedos de Fajão Walking Safari, organized by Origem Safaris, is a chance to explore the histories, legends and myths and to observe the flora and fauna surrounding the Aldeia do Xisto of Fajão.

About 5 km long, this circular route enters the Rede Natura of the Serra do Açor and takes you to Penedos de Fajão, where the seemingly endless views are breathtaking.

The whole route is accompanied by an interpretive guide who will reveal some of the most charming secrets of this region.

Fajão is an old village, nestling in a picturesque bowl in the hills, between gigantic quartzite cliffs, shaped like natural ancient castles. Visits to the Monsenhor Nunes Pereira Museum, the communal oven, the public laundry and or the old primary school are highly recommended, as they tell you the history of the village.

Licença RNAAT326/2014
Surrounding Area
Monsenhor Nunes Pereira Museum at 14m
São Salvador Chapel at 14m
Nossa Senhora da Guia Chapel at 14m
Restaurante O Pascoal at 99m
PR9 PPS - Caminho do Xisto Pampilhosa da Serra - Rota do Velho Unhais at 5.9km
Centro BTT Pampilhosa da Serra - Casal da Lapa at 8.9km
PR8PPS Caminho do Xisto da Pampilhosa da Serra Rota do Rio Unhais at 8.9km
Dam river beach of Santa Luzia at 9.1km
Information
Duration: 3h

10:00 to 13:00
15:00 to 18:00

Including:
Local / interpretive guide
Insurance

Does not include transportation to the village of Fajão.

All prices include VAT at the legal rate in force.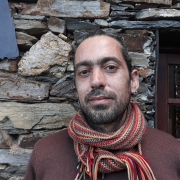 Host
António Matos
António Matos is an entrepreneur of tourism in sparsely populated areas. He is the co-founder of Origem Safaris, a local guide, interpretative guide and mountain guide.
Location
Fajão, Pampilhosa da Serra
Latitude: 40.14938
Longitude: -7.922244