Cerdeira - Home For Creativity is promoting the Wood Sculpturing course, from 18 to 22 March, led by Kerstin Thomas and Renato Costa e Silva.

Taking place in Cerdeira Schist Village, the workshop uses a mallet and chisels and introduces the chainsaw and power tools, thereby proposing a different way of carving and woodworking.

On this intensive course, you will learn:

- the origin of the raw material
- to look, feel and be inspired by the wood
- to develop, plan and carry out your ideas
- to choose and prepare the right wood for your project
- to think about the aesthetic options
- a number of techniques of carving and building
- to think about surfaces, textures and finishes

With the support of the craftspeople, each participant will design their own project, plan and choose the appropriate raw material and tool for each step of the preparation. If you already have a project in mind, you can contact the trainers beforehand to get the most useful support.
Requirements
This experience does doesn't have any features configured
Surrounding Area
Nossa Senhora de Fátima Chapel at 68m
Nossa Senhora da Piedade Shrine at 3.5km
River beach of nhora da Piedade at 3.5km
Santo António da Neve at 4.1km
Oven and still set of theClaro Family at 4.2km
Maternity home for trees at 4.5km
Coirela das Agostinhas Centre at 4.5km
Information
18 to 22 March
10h00-13h00
15h00 - 18h00

The course is intended for complete novices and recent beginners.

It includes:
Materials
Accommodation in Shared Residences with course registration, depending upon availability

It does not include:
Meals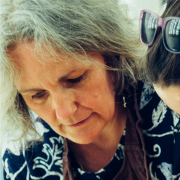 Host
Kerstin Thomas
Kerstin Thomas has lived in Cerdeira for more than 30 years. She's a wood sculptor and is part of a team of artists who make up the Schist Villages Craft Council. They are the group of trainers from Cerdeira Village Art&Craft. Be part of this artistic and cultural project. Cerdeira has excellent working conditions and opportunities ranging from small experimentation workshops to initiation courses, masterworkshops and artistic residences.
Location
Lugar da Cerdeira, Lousã 3200-509
Latitude: 40.094034170265
Longitude: -8.1940850290832