De 31 de agosto a 2 de setembro, o escultor Dário Zeruta está na Aldeia do Xisto da Cerdeira para orientar o Curso de Escultura em Papel.

A primeira fase é dedicada à "Arquitetura do Papel, a Transformação da Matéria". Durante estes dias, os participantes vão conhecer a magia da transformação da matéria: uma folha de papel que, através de dobragens, passa de duas a três dimensões. Partindo do estudo das propriedades físicas do papel, vão experimentar diferentes técnicas de dobragem como ferramenta para a utilização do papel na criação artística.

O que vai aprender:
- Diferentes formas geométricas como preparação de criação de volumes
- Técnicas de dobragem adaptado a diversos tipos de papel e outros materiais
- Trabalhar conceitos com módulos, padrões e repetições
- Criar estruturas com volumes a partir dos exercícios sugeridos
- Elaborar um conceito e um projeto individual e coletivo
Requirements
This experience does doesn't have any features configured
Surrounding Area
Nossa Senhora de Fátima Chapel at 69m
Nossa Senhora da Piedade Shrine at 3.3km
River beach of nhora da Piedade at 3.4km
Santo António da Neve at 4.2km
Oven and still set of theClaro Family at 4.3km
Maternity home for trees at 4.6km
Coirela das Agostinhas Centre at 4.6km
Information
Data: 31 agosto a 2 setembro
Horário: 10h00 - 13h00 / 15h30 - 18h30
Oferta de alojamento nas Residências partilhadas com a inscrição no curso, mediante disponibilidade.
Não inclui refeições.
Para designers, arquitectos, encadernadores, artistas e todos que querem experimentar o papel como meio de expressão artística.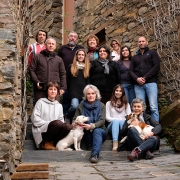 Host
Natália e José
"We first started visiting our friends, Kerstin and family, in Cerdreira 20 years ago. We fell in love with the place and decided to do something to help preserve and restore it. With the help of three generations of the family, we set to work. We restored the first house – the shrines. We loved it. Since then, we haven't been able to stop. Social responsibility and ecological sustainability are basic concepts for us, applied not only during the reconstruction stage, with local labour techniques and use of ecological materials, but also in our day-to-day operation!" Natalia and José.
Location
Lugar da Cerdeira, Lousã 3200-509
Latitude: 40.094108037147
Longitude: -8.1954690489349