The Hotel Santa Margarida is located in one of the most iconic parts of Oleiros, and it is a haven in Portugal's Central Region. The design is contemporary, and it combines comfort and modernity to perfection.

To provide you with days full of exceptional and wonderful moments, the Hotel has prepared the Summer in the Hotel Santa Margarida programme.

It offers 2 nights for 2 persons in a double room with half board. It also includes breakfast and the 'Chef's Suggestion' dinner. In addition, you have free access to various facilities and amenities such as a swimming pool, jacuzzi, sauna, gym, Turkish bath and others. Of course, the children have not been forgotten and they also have access to the children's pool and playground.

The Hotel Santa Margarida offers free Wi-Fi, a games area, an outdoor terrace bar where you can enjoy summer evenings and a shop where you can buy some of the best local products.
Requirements
This experience does doesn't have any features configured
Surrounding Area
Aldeias do Xisto Shop window in Santa Margarida Hotel at 1m
River beach of Açude Pinto at 1.9km
Chapel of S. Sebastião at 8km
St. Tiago Maior Parish Church at 8km
Schist bridges over the river Alvelos at 8km
Nossa Senhora da Nazaré Chapel at 8km
Misericórdia Church at 8km
River beach of Álvaro at 8.1km
Information
Programme: 2 nights for 2 persons in a double room with half board (drinks not included)

Price : € 112/person

The programme includes:
Breakfast
Chef's Suggestion dinner (not including drinks)
Free access to: swimming pool and outdoor jacuzzi; children's pool; gym, sauna and Turkish bath; outdoor fitness facilities; gardens and ecological garden; children's playground.

The hotel offers free Wi-Fi; parking; outdoor bar with terrace; regional product store; table football, and ping pong table.

Extra bed: 5 to 12 years old – € 43.50
> 12 years old – € 87
(only 1 extra bed possible per room)

Saturday night supplement, July and September – € 6/person
Supplement in August – € 10/person/night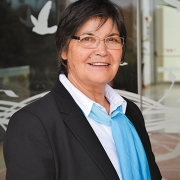 Host
Conceição Rocha
Conceição Rocha was born in a village near Oleiros. She has experienced life in several other places during her time. A fan of the traditions, culture and gastronomy of Pinhal Interior, she returned to the village of Oleiros to help manage the Hotel Santa Margarida. Together with her brother, she took on the four-star challenge.
Location
Torna , Oleiros 6160-498
Latitude: 39.915707
Longitude: -7.910946