Elegance, flavour and intimacy. If these are some of the qualities you are looking for in your final meal of 2019 and to see in 2020, Quinta da Palmeira, in Cerdeira, in the municipality of Arganil, is a must.

The menu follows the principles of the house, bringing together flavours and textures that challenge us by their appearance and satisfy our taste buds.

Dinner is scheduled for 9 pm and begins with a salad of celery, walnuts, apple, ham and melon. Then there is a choice of lamb fillet with red wine sauce and black plums or sole fillet with fennel sauce, mashed potatoes and seasonal vegetables. The orange meringue with passion fruit cream and mango will sweeten your senses. Finally, a coffee and a sweet. As the clocks strike 12, champagne and digestifs will be served.

The carefully prepared menu and the verdant landscapes of the Serra do Açor surrounding Quinta da Palmeira will certainly give you a great start to the new year.
Requirements
This experience does doesn't have any features configured
Surrounding Area
Manor House of the Counts of Guarda at 2.7km
Sixteenth century street at 2.7km
Old Convent of nto António at 2.7km
São João de Alqueidão Chapel at 2.7km
Church of the old Convent of Santo António at 2.7km
Misericórdia Church at 2.7km
Abreu Mesquita Manor House at 2.7km
Alpacas of Monte Frio at 3.2km
Margaraça Forest at 3.2km
Information
42,50€/pax
Children under 3: free
Children from 3 to 10 years of age: 50% discount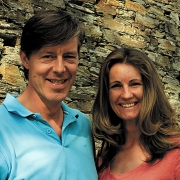 Host
Jack Brouns
Jack Brouns was keen to explore tourism activity in southern Europe. He travelled through Croatia, investigated in Spain. Destiny brought him to the Serra do Açor. The Dutchman, who already spoke Portuguese fluently, reveals: "The weather was awful when I first arrived, I was exhausted and suddenly, I saw that this house was for sale. "This is the one," I thought to myself.
Location
Rua Principal 36, Cerdeira, Arganil 3305
Latitude: 40.259794
Longitude: -7.939445