Vilar dos Condes é um santuário do silêncio. São seis casas de campo que preservam o original do xisto e nos transportam para as raízes das gentes do Pinhal. Teresa não deixou nada ao acaso, as casas estão minuciosamente bem decoradas. E depois de uma noite bem dormida presenteia-nos com um pequeno almoço campestre repleto de iguarias.

Na Adega é imperdível um serão bem passado com degustação de medronho, natural ou frio, à Vilar dos Condes. Casa em xisto com pátio interior onde é possível relaxar e tomar as refeições ao ar livre ou, se preferir, usufruir da lareira e de todo o seu conforto e tradição.

Termos e condições
Envio: o voucher será enviado por correio até 5 dias úteis após confirmação do pagamento.
Reservas: programa sujeito a reserva prévia e à disponibilidade do alojamento.
Utilização: todos os vouchers são numerados e só podem ser utilizados uma vez. Deverá ser entregue no alojamento no momento do check-in.
Alteração de reservas: todas as alterações deverão ser comunicadas diretamente ao parceiro, através do contacto disponibilizado, com um mínimo de 14 dias de antecedência e serão atendidas mediante disponibilidade.
Cancelamentos: no caso de não comparência, o voucher é automaticamente cancelado, sem direito a usufruto posterior. Os vouchers não são reembolsáveis nem passíveis de serem trocados por outros serviços.
Requirements
This experience does doesn't have any features configured
Surrounding Area
Reservoir beach of Cabril at 5.3km
Philippine bridge at 6.1km
Misericórdia Chapel at 6.1km
Parish Council building at 6.1km
Aldeia do Xisto shop window at Pedrógão Grande Tourism Information Centre at 6.6km
River beach of Troviscal at 9.4km
São Pedro Chapel at 9.7km
River beach of Mosteiro at 9.7km
Information
Preço para 2 pessoas: 50 euros

Inclui:
. 1 noite para 2 pessoas numa das casas de Vilar dos Condes, em regime de exclusividade
. Pequeno-almoço

Comodidades: bikotel, churrasqueira, jardim, lareira, matraquilhos.
Permitidos animais de estimação.
Wi-Fi disponível na adega.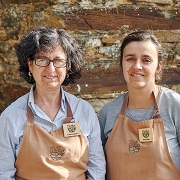 Host
Teresa Almeida
Teresa Almeida was born close by. Her destiny was to join the family business, in a Lisbon street. She came across a ruin in one day, while on a day out. Love at first sight can also, although rarely, happen with places. And our dreams can sometimes conjure up plans that neither engineers, nor architects, nor poets manage to put to paper. Only the dreamers know how to fulfil them. Teresa Almeida and Susana Dias are at your disposal to ensure that you have a memorable stay, that will make you want to return.
Location
S/Rua Vilar Cimeiro Oleiros 6160-211
Latitude: 39.936444415154
Longitude: -8.0726052209016