No fundo aplanado do vale do Rio Zêzere, entre serranias e pinhal, na Aldeia do Xisto de Janeiro de Cima, encontra a Casa Cova do Barro. Reconstruída a partir de uma propriedade agrícola, oferece-lhe um ambiente descontraído e familiar. Na sala de convívio, não falta uma agradável lareira para lhe garantir noites perfeitas.

A pensar em todos os que procuram partilhar novos momentos com quem mais gostam, a Casa Cova do Barro preparou um programa de 2 noites para 2 pessoas, com pequeno-almoço, decoração romântica, champanhe e fruta no quarto.

Com as suas casas de xisto e pedra do rio, os quelhos e quelhas, Janeiro de Cima é um lugar perfeito para fugir da rotina e apreciar a natureza.

Requirements
This experience does doesn't have any features configured
Surrounding Area
Private buildings from the 17th-18th centuries at 296m
Loja Aldeias do Xisto Shop window in Casa das Tecedeiras at 296m
Janeiro water wheel at 296m
S. Sebastião Chapel at 296m
Casa das Tecedeiras at 342m
River beach of Lavandeira in Janeiro de Cima at 424m
Information
Preço para 2 pessoas: 120 euros
Programa:
- 2 noites para 2 pessoas em quarto duplo com pequeno-almoço
- Decoração romântica com champanhe e fruta no quarto
- Late check-out até às 15h00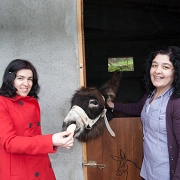 Host
Manuela e Sónia Latado
Entrepreneurship is part of the family's DNA. Manuel and Sónia Latado combine the management of Casa Cova do Barro with other professional activities. The family business started when their mother managed the village supermarket. The Casa das Tecedeiras followed shortly afterwards. Their tourist activity is complemented with a quality service, with one main objective at heart: to pamper their guests.
Location
Rua do Espírito Santo 33 Janeiro de Cima, Fundão 6185-114
Latitude: 40.069289
Longitude: -7.799105