Passar tempo de qualidade com as pessoas de quem mais gostamos é uma ótima forma de aproveitar o presente e garantir um futuro cheio de memórias felizes. Por isso, o Vale do Ninho Nature Houses convida-o a passar o Dia do Pai na Aldeia do Xisto da Ferraria de São João, no concelho de Penela.

O programa inclui 2 noites para 4 ou 5 pessoas em estúdio familiar com pequeno-almoço incluído e uma experiência de arborismo.

No final do dia, tem à sua espera a comodidade e o conforto das casas do Vale do Ninho, um conceito inovador de turismo sustentável, perfeitamente inserido no ambiente da aldeia, onde os aspetos da vida de antigamente continuam bem vivos e as tradições são mantidas com carinho, garantindo a identidade e a genuinidade do lugar.
Requirements
This experience does doesn't have any features configured
Surrounding Area
Misericórdia range at 4.8km
River beach of Louçainha at 6.2km
São Simão Chapel at 6.4km
Shop in Casal de S. Simão at 6.4km
Fragas de São Simão river beach at 6.5km
River beach of Ana de Aviz at 7.1km
Castle and Church São Miguel at 8.2km
River beach Rocas at 10.7km
São Pedro Chapel at 12.6km
Information
Preço do programa para até 5 pessoas: 249€

Inclui:
- 2 noites em estúdio familiar para 4 ou 5 pessoas
- Pequeno-almoço
- Experiência de arborismo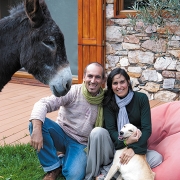 Host
Sofia e Pedro Pedrosa
Your hosts are Pedro and Sofia. Passionate about nature and mountain and country life, they changed their lives by moving from the native city, to bring up their family in this village. They now live here with the children, Tomás and Leonor, both of whom were born in the village, and their extended family of three dogs, two cats, two donkeys and three chickens. Travelling, walking, running and biking form part of the life they chose and where welcoming guests is always a pleasure, made extra special through sharing experiences and the good times in life.
Location
Ferraria de São João, Penela 3230-018
Latitude: 39.973560339336
Longitude: -8.3264134576721