Os artistas e professores Bodil Eide e Paulo Borges mostram a pais e filhos como explorar o desenho juntos, recorrendo a diferentes matérias e técnicas. No Workshop de Desenho para Pais e Filhos, a decorrer a 13 de junho, na Aldeia do Xisto da Cerdeira, a expressão individual ganha prioridade, usando as referências e a linguagem da arte como inspiração e desenhando a partir da envolvente natural.

O programa divide-se em duas partes. De manhã, é tempo para o "Desenho Lá Fora". De lápis e papel na mão, miúdos e graúdos partem em busca do que podem desenhar na aldeia e na natureza em redor.

Desenhar a Coisa com a Coisa" é a tarefa que vai ocupar a tarde. Com materiais recolhidos na floresta em redor, inventam-se novos pincéis, novas marcas e novas formas de desenhar que vão ajudar a encontrar a expressão certa.

Esta é uma experiência para adultos e crianças de todas as idades. Além de explorar a capacidade criativa de cada um, esta é uma oportunidade de conhecer alguns dos mais belos recantos e paisagens da Serra da Lousã.
Requirements
This experience does doesn't have any features configured
Surrounding Area
Nossa Senhora de Fátima Chapel at 68m
Nossa Senhora da Piedade Shrine at 3.5km
River beach of nhora da Piedade at 3.5km
Santo António da Neve at 4.1km
Oven and still set of theClaro Family at 4.2km
Maternity home for trees at 4.5km
Coirela das Agostinhas Centre at 4.5km
Information
Programa
> Manhã: Desenho Lá Fora
> Tarde: Desenhar a Coisa com a Coisa

Condições
> Desconto earlybird de 10% para inscrições (pagamento de 50%) até 13 de maio
> Desconto de 3% sobre o valor do curso em pronto pagamento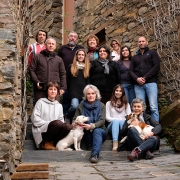 Host
Natália e José
"We first started visiting our friends, Kerstin and family, in Cerdreira 20 years ago. We fell in love with the place and decided to do something to help preserve and restore it. With the help of three generations of the family, we set to work. We restored the first house – the shrines. We loved it. Since then, we haven't been able to stop. Social responsibility and ecological sustainability are basic concepts for us, applied not only during the reconstruction stage, with local labour techniques and use of ecological materials, but also in our day-to-day operation!" Natalia and José.
Location
Lugar da Cerdeira, Lousã 3200-509
Latitude: 40.094034170265
Longitude: -8.1940850290832