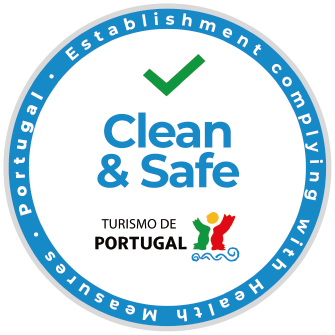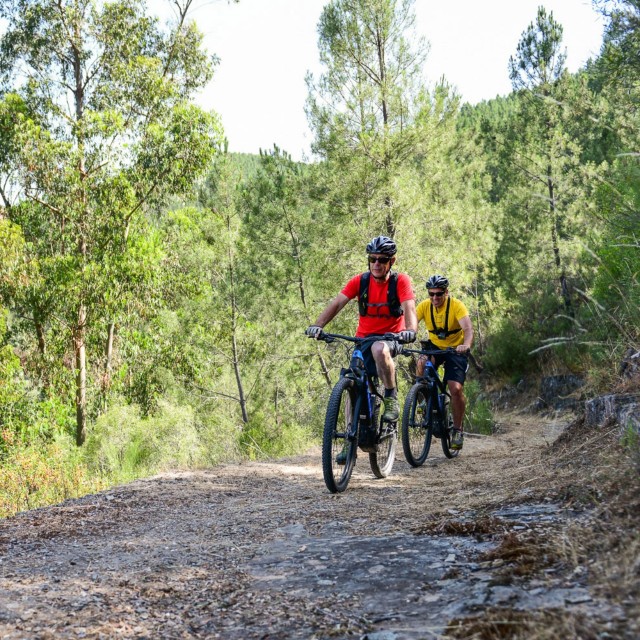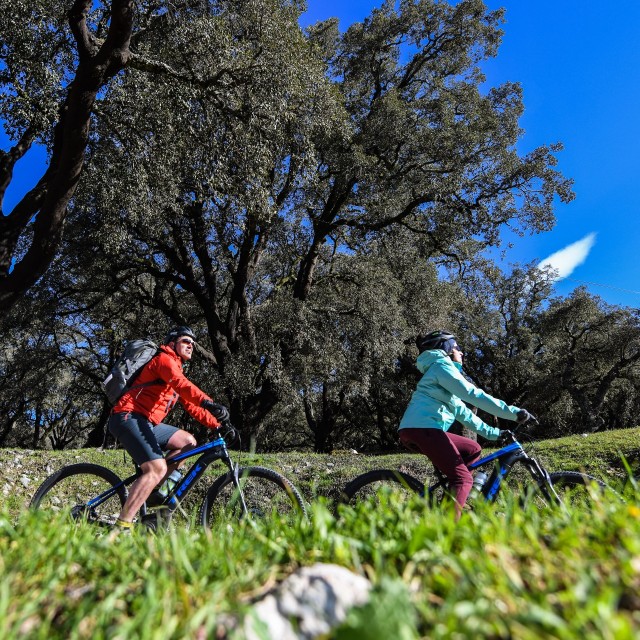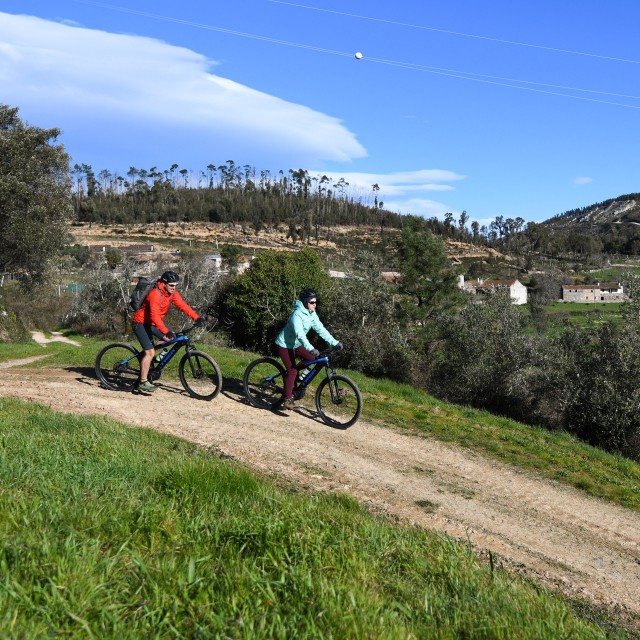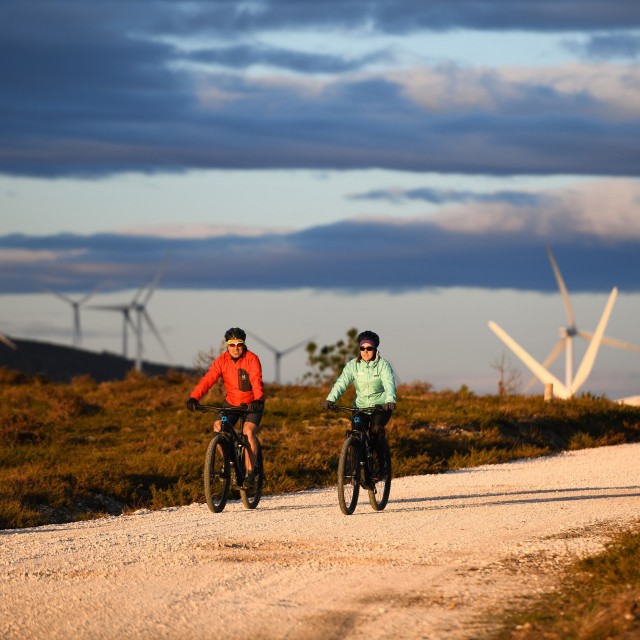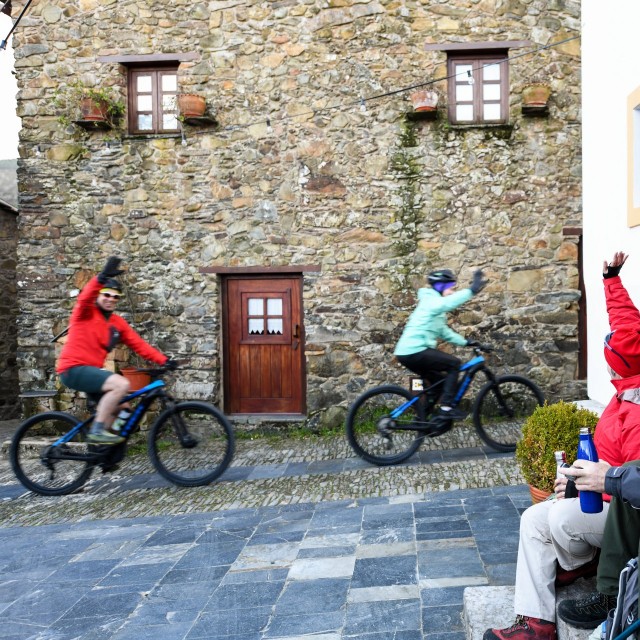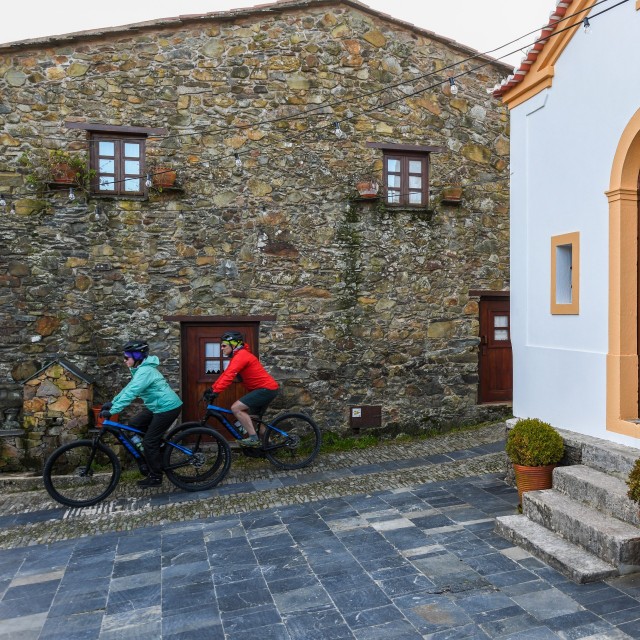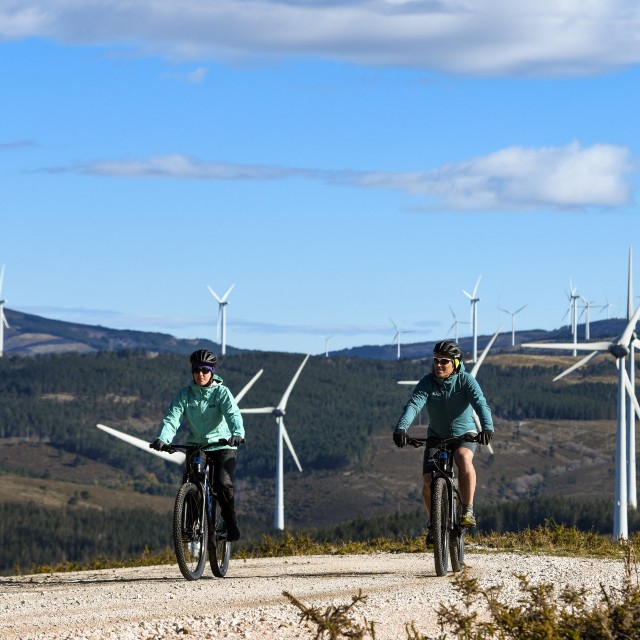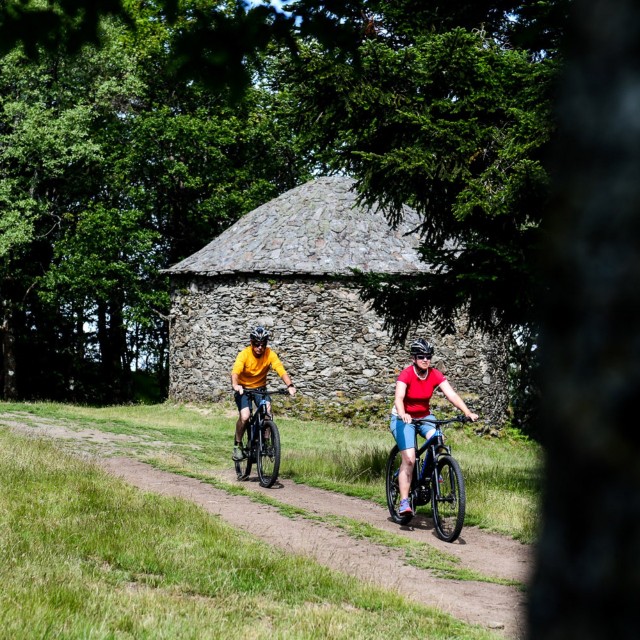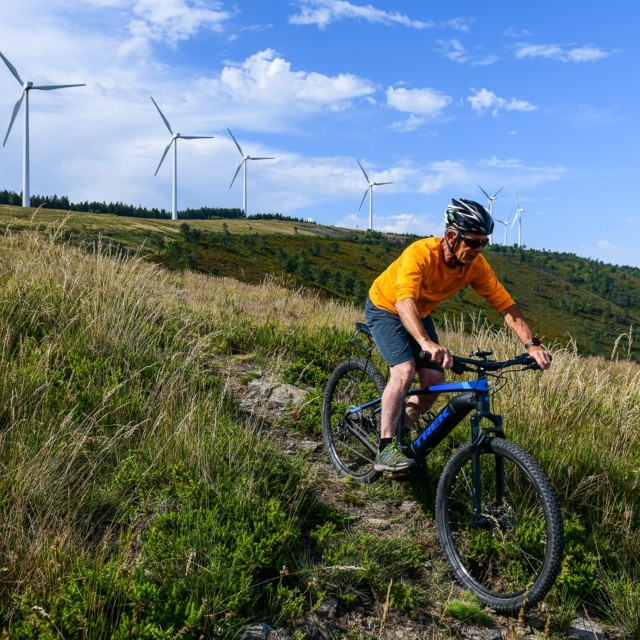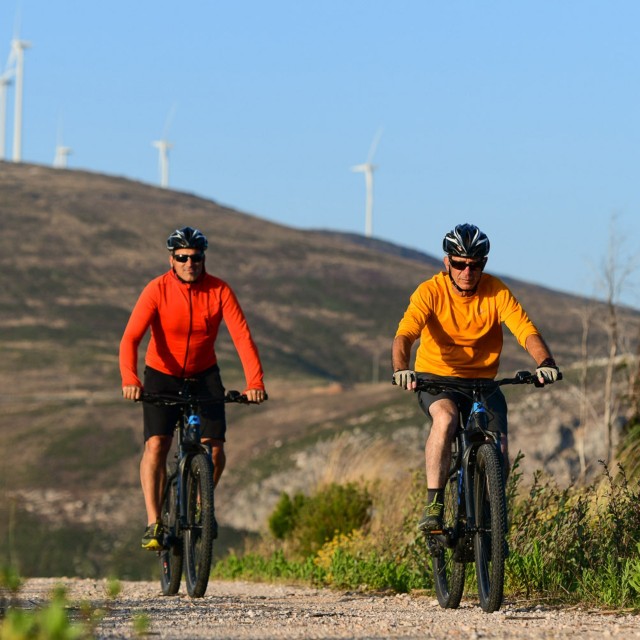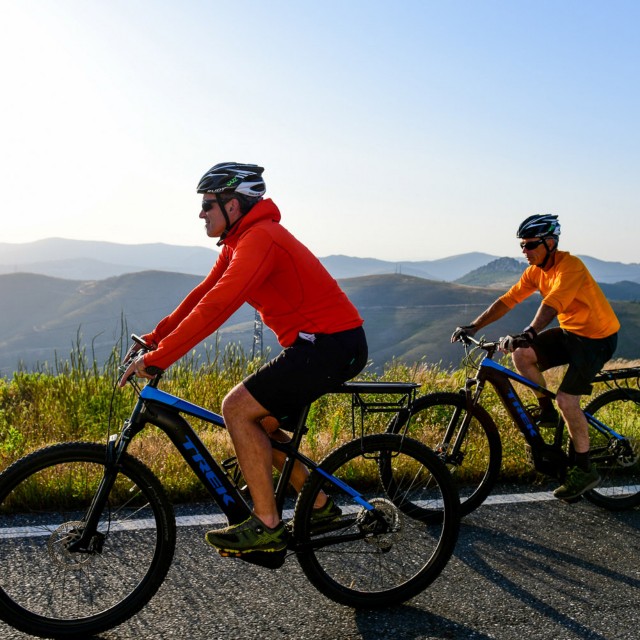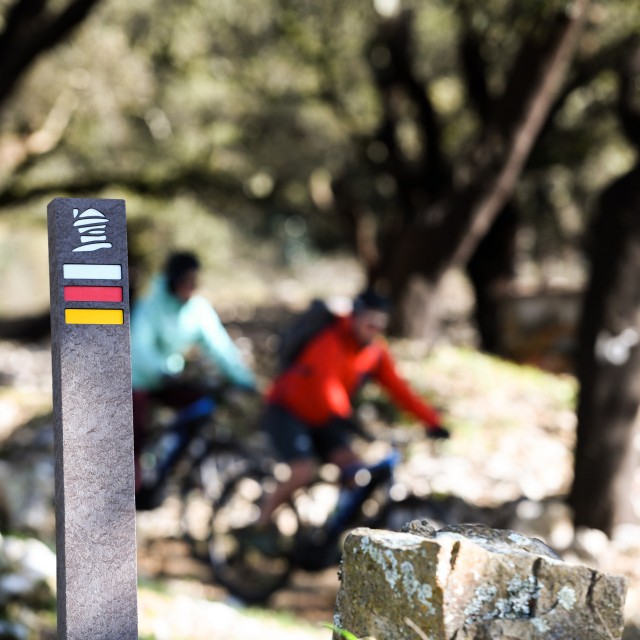 Over the course of 5 days, cycle through Portugal's Central Region, and explore the hidden treasures of Aldeias do Xisto at your own pace. Located between Lisbon and Porto, this unique region quickly transports you to another world. Along this journey, you will cycle from village to village, passing through forest areas, river beaches, through the epic climb in Lousã, crossing several rivers and stunning landscapes, and spending the night in some of the most emblematic Aldeias do Xisto. You will cross centuries of history and tradition, and trust us, you will be surprised by some of the locals' best kept secrets.

DAY 1: Loop in Ferraria de São João (51.3 km)
On the first day of your trip, you will visit Aldeia do Xisto of Casal de São Simão, where you can cool off on the Fragas de São Simão River Beach, a few minutes away. The overnight stay is at Aldeia do Xisto of Ferraria de São João.

DAY 2: Sicó Loop (53 km)
On this day, you will cycle to the famous Village of Rabaçal. The cheese, the Roman Villa and the overwhelming view from Germanelo, King Afonso Henriques' castle and the couto de homiziados demand a longer stop. The overnight stay is at Aldeia do Xisto of Ferraria de São João.

DAY 3: Ferraria de São João - Gondramaz (53.4 km)
On the third day, the destination is the Aldeia do Xisto of Gondramaz. On the way, you will get to know the village of Penela and its castle. On this tour, you can relax and cool off at the Louçainha River Beach, a place where greenery and absolute tranquillity prevail. The overnight stay is at Aldeia do Xisto of Gondramaz.

DAY 4: Gondramaz - Castanheira de Pêra - Coentral - Gondramaz Loop (48.7 km)
Before ending this adventure, you will cycle from Aldeia do Xisto of Gondramaz to Castanheira de Pêra, located in an authentic rural area of Portugal, and where you can visit the museum dedicated to the old wool industry. Throughout the day, you will come across memorable landscapes. The overnight stay is at Aldeia do Xisto of Gondramaz.

DAY 5
Departure and end of services

Licença de Operador Turístico RNAVT 3014 & RNAAT 45/2006 & Nature Tourism Certificado por Turismo de Portugal
Requirements
This experience does doesn't have any features configured
Surrounding Area
MTB Center Ferraria São João at 114m
Misericórdia range at 4.8km
River beach of Louçainha at 6.2km
Restaurant Varanda do Casal at 6.2km
PR1 FVN - Schist Walking Trail Casal de S. Simão Descida às Fragas at 6.3km
São Simão Chapel at 6.4km
Shop in Casal de S. Simão at 6.4km
Fragas de São Simão river beach at 6.5km
Fragas de São Simão Walkways at 6.5km
River beach of Ana de Aviz at 7.1km
Information
Price: 540€ /pax

Included services:
- 4 people with breakfast (based on 3* accommodation or similar)
- Briefing
- 4 bicycle rides
- GPS device with routes
- Luggage transfers
- Electric bike rental
- Maps and documentation
- 24h support line
- Personal Insurance
- Free A2Z and A2Z water bottle
- Return to Ferraria de São João on the last day

Extra services:
- Lunch boxes (picnic lunch): €12/person
- Extra night at Ninho Valley or Mountain Whispers: on request
- Chanfana workshop + dinner (2 pax) = €70
- Wood or Clay Workshop (2 pax) = 70€
- Guided tour of UNESCO's heritage in Coimbra: on request
- Guided tour of Aveiro, Portuguese Venice: on request
- Extra night in Coimbra: €60/person (double room)
- Extra night in Lisbon or Porto: €80/person (double room)

Does not include:
- Personal equipment
- Other personal expenses
- Flights
- All elements not mentioned in "included services".

Start of program on Sundays.

All prices include VAT at the legal rate in force.
Host
Portugal A2Z Walking & Biking
Powered by your passion for travel, Portugal A2Z Walking & Biking was born to offer you authentic experiences in the most exclusive places in Portugal taking you to the most historic and wild landscapes. Discovering Portugal with us means you will travel in a small group (6-12 people), allowing you to stay in unique and special places away from the tourist crowds. It means getting a first-class service with our dedicated guides and having the time to interact with locals, immerse yourself in Portuguese culture and enjoy the best of your favourite activity in a breath-taking scenery.
Location
Ferraria de São João 3230-018
Latitude: 39.973558
Longitude: -8.326413