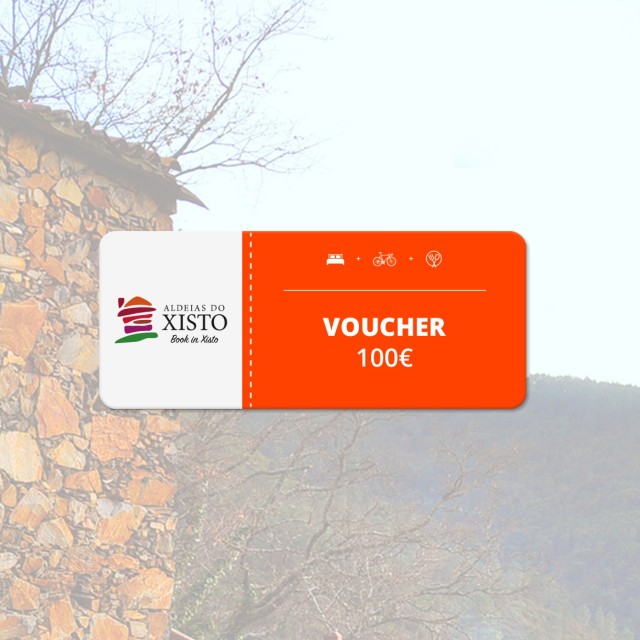 Quer visitar as Aldeias do Xisto, mas não sabe bem quando pode fazê-lo? Criámos a solução perfeita para si: com toda a tranquilidade e a partir do conforto da sua casa, pode agora adquirir este voucher no valor de 100€, a utilizar em 2021 em toda a oferta turística disponível no Bookinxisto.

Compre agora e escolha mais tarde os alojamentos e restaurantes que quer conhecer ou as experiências que pode viver. Pode adquirir e usufruir destes vouchers durante todo o ano.

Após efetuar o pagamento, recebe no seu email, em 24 horas, o voucher escolhido com um código associado. Depois de decidir quando e onde quer ficar ou o que pretende fazer, só tem de juntar todos os produtos no cesto de compras e indicar o código que lhe foi atribuído. Cada voucher só pode ser descontado uma vez, mas pode ser utilizado em vários produtos, desde que constem no mesmo cesto.

Sonhe com a sua viagem e, quando puder, transforme o sonho em realidade ou aproveite a oportunidade para oferecer momentos únicos a quem mais gosta. Em 2021, as Aldeias do Xisto esperam por si.
Requirements
This experience does doesn't have any features configured
Surrounding Area
Casa Grande - Manor house of the family Fabião at 46m
Poço do Caldeirão Prehistoric Art Interpretation Centre at 46m
PR1 FND Caminho do Xisto da Barroca - Rota das gravuras rupestres at 225m
PR6 PPS Caminho do Xisto Porto de Vacas Troço Mágico da GR Zêzere at 6.5km
PR 2 FND - Caminho do Xisto de Janeiro de Cima - Ó da Barca! at 8.4km
Restaurante Fiado at 8.4km
Information
Após efetuar o pagamento receberá o voucher por e-mail em 24 horas.

Para uso exclusivo em compras na plataforma de reservas Bookinxisto.com.
Todos os vouchers são numerados e só podem ser utilizados uma vez.
Em caso de compras no valor inferior ao do voucher, a diferença não será reembolsada.
Válido para o ano de 2021.
Host
ADXTUR - Agência para o Desenvolvimento Turístico das Aldeias do Xisto
The Schist Villages are a destination brand which, in the last few years - thanks to tourist activity, experimentation and knowledge - has achieved the status of a unique territory in the context of the Central Region and the country as a whole. The relationship with nature, the land and the people has been the compass guiding action that is intended to revitalize the territory, at all times seeking what is most distinctive and genuine in the landscape and within communities, attracting investment and opening the door to projects that try things out based on the spirit of the places.
Location
Casa Grande 6230-137
Latitude: 40.10896564511
Longitude: -7.717666441803