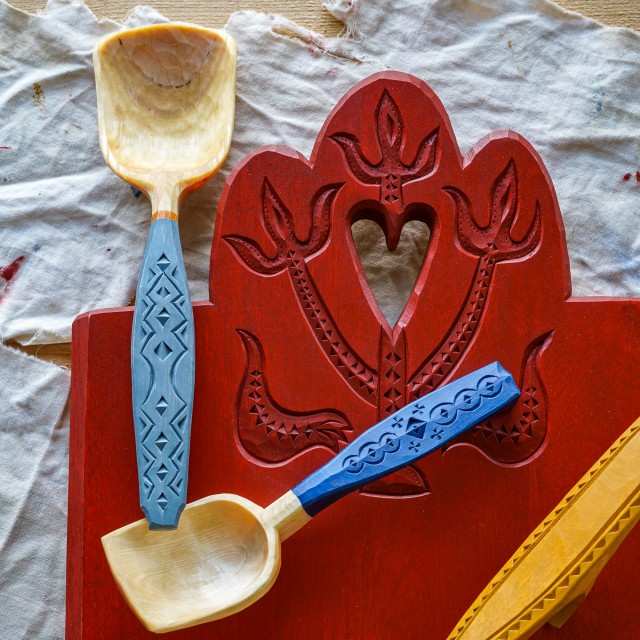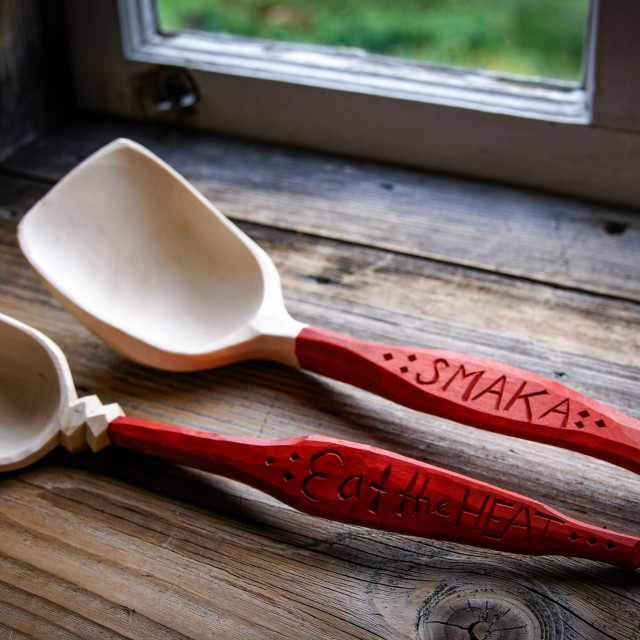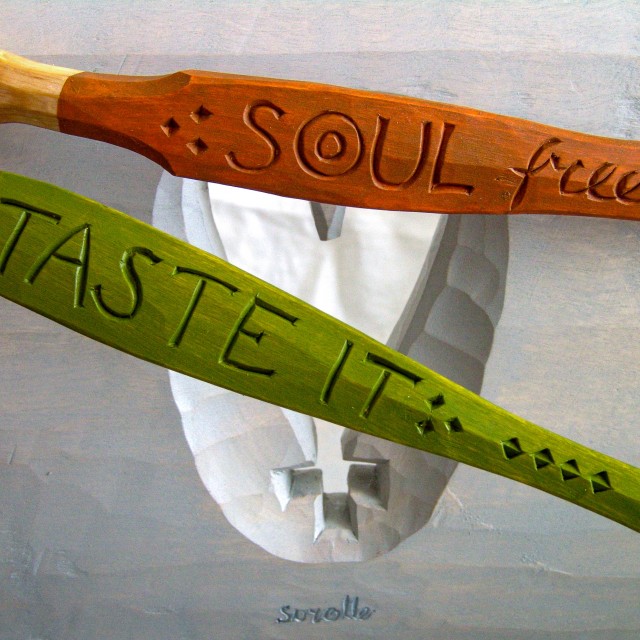 Spoon carving involves a surprising level of hidden engineering and understanding of wood to make a delicate, graceful, strong, and useful spoon - one that will grow even more beautiful with years of use."
Jögge Sundqvist will generously share with us the knowledge of spoonmaking in the Scandinavian style, which he learned from his father Wille Sundqvist.
In this unplugged slöjd class, you'll learn the basics of traditional Scandinavian carving techniques with an axe and knife. Carving finely made eating and cooking spoons is a rich tradition going back a thousand years in Scandinavia. These elegant and useful objects are either painted with oil-based colors or adorned with decorative chip carvings.
Here you'll have the opportunity to make your own spoon with natural materials, taking home a beautiful and useful object!
Spoonmaking in the Scandinavian Style.
What will you learn in this course?
Wooden spoons derive their stability from the natural bends in crooks in order to follow the fibers. There are many wonderful hand grips to learn, using forgotten muscles, and always employing safety stops!
We will go from green to dry wood and make a straight-grown spoon and end up finding a blank in the woods for a natural bent spoon. We will also discuss stylistic elements in the functional design, the natural properties of the wood, the production process, special knife grasps, and the sharpening of the tools.
This is a course for beginners and experienced people, for anyone who's interested in Swedish traditional spooncarving.
Besides step-by-step demos, this course will consist of demonstrations on splitting wood, axe techniques, knife techniques, and hollowing techniques. The forest that surrounds Cerdeira will be our inspiration but also our source of material and natural workplace!
In the end, you'll take home not only the knowledge but your own spoons, carved in Portugal with Swedish inspiration.

License: Registo Nacional de Agente de Animação Turística n.º 135/2021
Requirements
This experience does doesn't have any features configured
Surrounding Area
Nossa Senhora de Fátima Chapel at 41m
PR4 LSA - Schist Walking Trail Lousã - Rota das Quatro Aldeias at 1.7km
Nossa Senhora da Piedade Shrine at 3.4km
River beach of Senhora da Piedade at 3.5km
PR 2 LSA - Schist Walking Trail Rota das Aldeias do Xisto da Lousã at 3.6km
PR5 LSA - Schist Walking Trail Lousã - Rota dos Serranos at 3.6km
Information
Date: August 19th to 23rd

Price: 880€/person

Schedule:
- Course: 10 am to 6 pm, with a 2-hour lunch break.

Conditions:
- Enrollments up to 2 months before the course start date.

The course fee includes:
- Integration in a small workgroup.
- Training 5-6 hours a day, spoken in English and Portuguese;
- All the materials needed for the course;
- Welcome dinner;
- Free accommodation in our shared residences during the course (upon availability). The residences are equipped with a dormitory, kitchen, shared bathrooms, washing machine, towels, bed linen, and wi-fi;
- 10% discount on the base rate when booking an individual house (minimum of 2 nights). The base rate refers to a stay of 2 people and includes breakfast, equipped kitchen, towels, bed linen and wi-fi.

Adicional lunch service:
- Lunch package for 5 days costs 60€. If you book a meal outside the package, it will cost 15€.
- This service has to be booked at least 48 hours in advance at reception.

All prices include VAT at the legal rate in force
Host
Jögge Sundqvist
Jögge Sundqvist brings his know-how for the first time to Cerdeira, sharing with us his skills and culture. In his slöjd, the Swedish word for traditional craft, he explores work processes and relates to tradition-based know-how and to a folk culture where art, quality, and working methods are connected.
Since 1985, Jögge has been active nationally and internationally, as a craftsman, lecturer, inspire, and author. He has been carving since childhood and is trained in the art of using a knife and axe by his father, the craftsman Wille Sundqvist, and from his mother Maxan Sundqvist. Now, he works widely with public and private commissions and exhibitions commissions.
From utility items to sculpture, he works in greenwood with hand tools and produces painted stools, chairs, knives, cabinets, spoons, and sculptures in his studio in Kasamark, Umeå.
Also known as s u r o l l e, his alter ego, this trainer will come to Cerdeira from the north of Sweden to teach us how to make spoons in the Scandinavian Style!
Location
Lugar da Cerdeira, Lousã 3200-509
Latitude: 40.093969335966
Longitude: -8.19464