This property originated hundreds of years ago on a hillside in Lousã, and was restored by its current owners in 1998. A place that was planned down to the finest detail, and that was opened up to those seeking unique experiences in 2012.

Located next to the Ferraria de Sao João access road, the Casas do Favacal offer two independent and self-contained houses. One has a suite, and the other has two bedrooms, both with a lounge and a fully equipped kitchenette. There is a shared exterior area with a swimming pool (with detachable cover), garden, barbecue and relaxation some with hammocks.

Surrounding Area
Misericórdia range at 4.6km
São Simão Chapel at 6.4km
Shop in Casal de S. Simão at 6.4km
Fragas de São Simão river beach at 6.5km
River beach of Louçainha at 6.5km
River beach of Ana de Aviz at 7.5km
Castle and Church São Miguel at 7.7km
River beach Rocas at 11.5km
Rabaçal Roman Villa at 12km
Information
Available all year round.
Minimum 2 nights.
Check-in: 15h00
Check-out: 12h00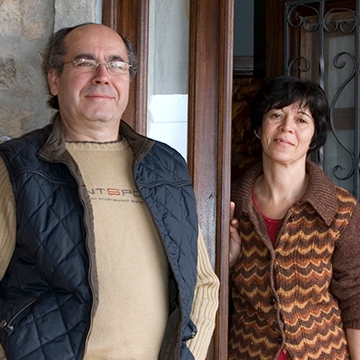 Host
António e Isabel Aires
António and Isabel Aires came together in this project to escape the stress of the city, and with their passion for everything old, to fulfil their dream of opening their doors to those who value the countryside. They found a village where only the original inhabitants lived, but it was slowly falling apart. The desire to restore the buildings, so that they were not lost for ever, is what made this dream come true.
Location
S/rua, Favacal, Penela 3230-017
Latitude: 39.972967779869
Longitude: -8.3358040502625