Casa Ti Augusta has been renovated to enhance the comfort and convenience of those who stay there, without ever neglecting tradition, which is reflected in the materials, decoration and outdoor surroundings. Located as it is in Figueira, one of the Aldeias do Xisto, shale predominates, as well as woods, linen and cork. In a cosy atmosphere, where the fire coddles us on cold nights and the stone keeps us cool on hot days, this is a space that invites you to linger. There are plenty of things to see and do: a visit to the goats, making bread or simply enjoying the peace and quiet of the countryside.
For more radical visitors, there is tandem parachuting, hiking or mountain biking, which are all very popular in these hills. The breakfast is a range of the best local produce. Here you can go to sleep to the sound of crickets and wake up to birdsong; you can hear a fox howling in the distance or owls hooting, and you can discover for yourself that idyllic images of the countryside do actually exist.
Make yourself at home in this house!

Surrounding Area
Restaurante Casa da Ti Augusta at 14m
Aldeias do Xisto Shop in Figueira at 32m
PR8 PNV - Caminho do Xisto de Figueira - Por Muros de Xisto at 34m
Living Science and Proença-a-Nova forest centre at 2.9km
Centro BTT Praia Fluvial da Fróia at 4.3km
River beach of Fróia at 4.3km
River beach of Alvito da Beira at 9.3km
River beach of Malhadal at 10.6km
River beach of rejeira at 10.6km
River beach of Aldeia Ruiva at 11.2km
Information
Available all year round.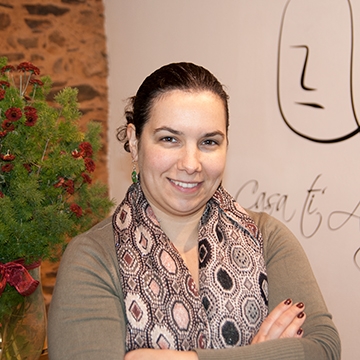 Host
Joana Pereira
Joana Pereira always dreamed of a project of this nature. When she joined the family in 2011 and got to know the village, she quickly realized her dream would come true. "First, the dream. Then the project. Then the dream again. A huge desire! To do, to want, to create. The desire to be different ... to elevate tradition, sprinkled with emotions and sensations, reinventing it in a unique and genuine way, just like the people of Figueira" says Joana.
Location
Rua Principal, Figueira Sobreira Formosa 6150-718
Latitude: 39.751882035022
Longitude: -7.8526366269837