Located at one end of the Aldeia do Xisto of Barroca, Solar Vicente is a cosy family home with a wonderful view of the River Zêzere.

With space for 10 people, this accommodation has a large common area and fully equipped kitchen, making it the ideal place to enjoy the company of family and friends.

In the huge outdoor area around the building, which has been carefully restored over the last few years, guests can enjoy the gardens, vegetable gardens and fruit trees cultivated by the hosts. A centuries-old cork oak and a swimming pool where you can cool off on hot days create a scenery that guarantees a many happy memories where the quiet is disturbed only by the gurgling waters of the Zêzere.
Surrounding Area
Casa Grande - Manor house of the family Fabião at 164m
Poço do Caldeirão Prehistoric Art Interpretation Centre at 164m
Paths and tracks at 8.6km
Private buildings from the 17th-18th centuries at 8.6km
Loja Aldeias do Xisto Shop window in Casa das Tecedeiras at 8.6km
Information
Available all year round.
Check-in: 15h00
Check-out: 12h00
Village with restaurant, small supermarket and ATM.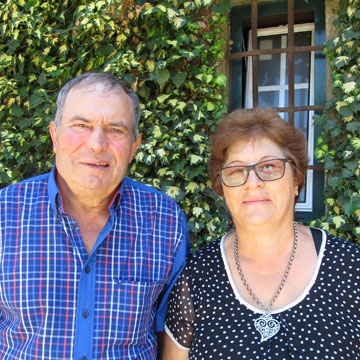 Host
José Braz e Maria Vicente
Solar Vicente is the realization of the dream of José Brás and Maria Vicente. They bought the building, which was completely vacant, about 15 years ago. They invested their time and savings into creating a cosy and charming house that they now want to share with those who seek rest, tranquillity and inspiring landscapes.
Location
Largo de São Romão, nº 1 Barroca, Fundão 6230-137
Latitude: 40.110368
Longitude: -7.717363