Casa de Escada is a cosy, two-storey schist house set on one of the village's highest points, boasting spectacular views over the Ribeira da Cerdeira valley and the entrance to the village.

The kitchen is located on the ground floor along with a dining area, as well as a lounge area with a comfortable sofa bed. The first floor has a bedroom with both a double and a single bed, as well as a bathroom. The front terrace of the house is perfect for games, reading, dining alfresco and, of course, for enjoying a glass of wine in the evening. This house is perfect for enjoying a pet friendly holiday.

This house has been renovated in a sustainable way and ensures all the comfort of a modern home. It has both central heating and a wood-burning stove. In Cerdeira you can join in creative experiences and outdoor activities, such as hiking and jeep tours. Also find out about the programme of workshops and training sessions at the School of Arts & Crafts.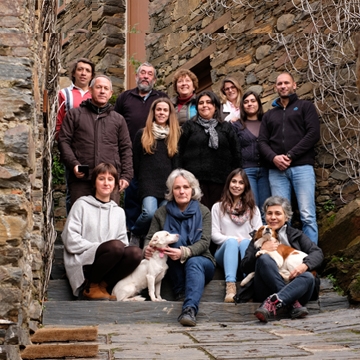 Host
Natália e José
"We first started visiting our friends, Kerstin and family, in Cerdreira 20 years ago. We fell in love with the place and decided to do something to help preserve and restore it. With the help of three generations of the family, we set to work. We restored the first house – the shrines. We loved it. Since then, we haven't been able to stop. Social responsibility and ecological sustainability are basic concepts for us, applied not only during the reconstruction stage, with local labour techniques and use of ecological materials, but also in our day-to-day operation!" Natalia and José.
Location
Lugar da Cerdeira 3200-509
Latitude: 40.09409982972
Longitude: -8.1954583200989