Casa Pica-pau is a family studio with a maximum capacity of five people, offering a bedroom with double bed, a single bed that pulls out from behind the living room sofa, as well as two single beds on the mezzanine which are accessed by a vertical ladder. The house has a bathroom, kitchenette and direct access to the garden and pool.
The Casas do Vale do Ninho emerged from the reconstruction of ruins of existing stone houses and barns in Vale do Ninho. The complete reconstruction now provides a high level of year-round comfort for all of our guests. On completion of the reconstruction, based on the project by architect Pedro Brígada, the houses were ready for rental in 2014.
Surrounding Area
Misericórdia range at 13.7km
River beach of Louçainha at 21.8km
São Simão Chapel at 8.7km
Shop in Casal de S. Simão at 8.7km
Fragas de São Simão river beach at 9.1km
River beach of Ana de Aviz at 12.4km
Castle and Church São Miguel at 15.1km
River beach Rocas at 24.2km
São Pedro Chapel at 22.2km
Information
Minimum stay 2 nights.
Check-in: 15h00 - 20h00
Check-out: 12h00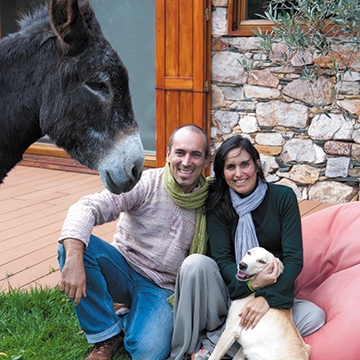 Host
Sofia e Pedro Pedrosa
Your hosts are Pedro and Sofia. Passionate about nature and mountain and country life, they changed their lives by moving from the native city, to bring up their family in this village. They now live here with the children, Tomás and Leonor, both of whom were born in the village, and their extended family of three dogs, two cats, two donkeys and three chickens. Travelling, walking, running and biking form part of the life they chose and where welcoming guests is always a pleasure, made extra special through sharing experiences and the good times in life.
Location
Vale do Ninho, Ferraria de São João, Penela 3230-018
Latitude: 39.973733
Longitude: -8.326392