Can you imagine such a genuinely Portuguese mountain region inhabited by roebuck and deer? Can you imagine a house where rest and relaxation are so thoroughly undisturbed? Welcome to Casa de Campo Aldeia de Camelo: rural tourism in the Serra da Lousã, consisting of 4 utterly charming houses.

In the Casa do Forno, an old bread oven is now a shower and a manger has been turned into a kitchen.

Enjoy a restful sleep in a house where rooms are enveloped by breath-taking views. This is the land of horses, chestnut and cork oak trees. Heather honey forms part of a diverse gastronomical tradition which we are proud to help you discover.

Don´t miss the opportunity to unwind by the poolside or by enjoying a bike ride in the mountains. The two crystal-clear streams that run through the property can be seen in the distance, as well as several river beaches.

You are also welcome to visit the Casa das Fadas and relax with a massage, join in a workshop or a retreat and practise Reiki.

Surrounding Area
Santo António da Neve at 2.7km
River beach of Poço Corga at 3.8km
River beach Rocas at 6.4km
Nossa Senhora de Fátima Chapel at 6.6km
Oven and still set of theClaro Family at 7.2km
Information
High season, minimum 2 nights and 2 people,
low season, 1 night and 2 people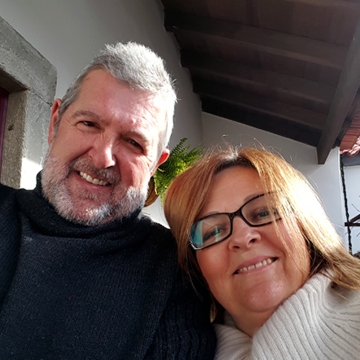 Host
Maria João e Fernando Pereira
Maria João and Fernando, the hosts of this village "where time has time", had grown tired of the bustle of the city, and decided to strengthen the roots that link them to this village in Serra da Lousã. They want everyone who visits them to feel the peace, calm and tranquillity of this enchanting place.
Location
Rua nossa Senhora do Amparo, Camelo, Castanheira de Pêra 3280-200
Latitude: 40.043883
Longitude: -8.152281