Casa Cimeira, where time... is not the owner of time. Make yourself at home. This is the motto for packing your bags and heading off to the village of Candal. Casa Cimeira has recently been refurbished and offers all the conditions and comfort of a modern home. With 3 double rooms spread over two floors, it can accommodate up to 6 people. The decor was thought out down to the last detail. Those details are found throughout the house: in the dining and living room, in the bedrooms, in the bathroom. The kitchen is fully equipped. Here you'll find all you need to make breakfast. Outside, you can admire one of the best views of the Village, as well as the immense greenness of Serra da Lousã.
Surrounding Area
Nossa Senhora de Fátima Chapel at 1.7km
Nossa Senhora da Piedade Shrine at 3.3km
River beach of nhora da Piedade at 3.4km
Santo António da Neve at 3.9km
Aldeias do Xisto Welcome Centre at 4.8km
Arouce Castel in usã at 5.1km
Oven and still set of theClaro Family at 5.7km
Information
Available all year round
The minimum stay is 2 nights.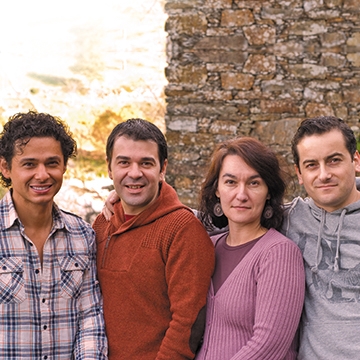 Host
Carlos Almeida
Sérgio, Carlos, Carla and Tito went to visit the Schist Vilages. In Candal, the lack of mobile coverage took them to a house that invitingly displayed a FOR SALE sign. "In our imagination it was immediately bought. We made projects, renovations, months of dreams, fantasies and delusions, long dinners into the night, discussing this and that, but with the conviction that this was the place of our dreams." Anyone there can confirm that it just might have been that way.
Tomé
"We felt at home from the moment we opened the door... the music of the radio playing, the lights on... The house had everything we needed (and even a little more). We really appreciated the hospitality and warmth, the small details that made us fall in love with this house and this beautiful and peaceful place. Thank you very much from the bottom of our hearts. " April 22, 2019

Tiago
"A spectacular house. Lovely decor, with all the necessary comfort." April 17, 2019
Location
s/rua, Lousã 3200-067 Candal
Latitude: 40.080556
Longitude: -8.204167