Casa da Laje is next to a small stream that flows into the Ribeira da Galega. It crosses the village of Água Formosa. The outside retains its original design. Inside, the decor is contemporary and very comfortable. In addition to the huge clay and schist walls, the house has doors and windows with great thermal and acoustic insulation.
The house is divided into two floors. Downstairs, there's a living room with kitchen, and a large glazed door leading to a small patio where you can see the stream and the vegetable gardens. There's also a bathroom at this level. The floor is made of schist tiles (replica) with radiant heating. Upstairs, which is accessed either via an internal staircase or directly from the street, there are two bedrooms and a bathroom. One of the bedrooms has a double bed and two windows; the other has a double bed and a single window with a beautiful view. It can be adapted to an office, creating an ideal space for reading and writing.

Surrounding Area
Água Formosa source at 0m
Aldeias do Xisto Shop in Água Formosa at 0m
River beach of Penedo Furado at 5.6km
River beach of Pego das Cancelas at 9.3km
River beach of Cardigos at 9.6km
River beach of Bostelim at 11.6km
River beach of Zaboeira at 12.9km
River beach of Fernandaires at 14.6km
Information
Minimum number of nights is 2.
Check-in: 14h00 - 20h00
Check-out: 12h00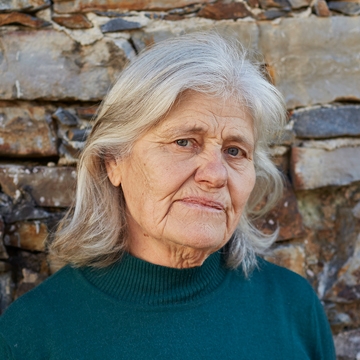 Host
Benvinda Santos
Mrs Benvinda always has delicious snacks/breakfasts available for her guests. Her roots are in the village of Vale das Casas and Água Formosa and she is an excellent guide for walking tours, particularly to Lagar da Ferrugenta along the Ribeira da Galega.
Location
Rua da Lage, Água Fomrosa, Vila de Rei 6610-101
Latitude: 39.6347
Longitude: -8.09997