This is a house built in the middle of the last century to accommodate a growing family! It has 3 very comfortable suites on the top floor, and on the ground floor there's a spacious living room with fireplace and a kitchen for family gatherings!
Surrounding Area
Água Formosa source at 0m
Aldeias do Xisto Shop in Água Formosa at 0m
River beach of Penedo Furado at 5.6km
River beach of Pego das Cancelas at 9.3km
River beach of Cardigos at 9.6km
River beach of Bostelim at 11.6km
River beach of Zaboeira at 12.9km
River beach of Fernandaires at 14.6km
Information
Available all year round.
Minimum availability 2 nights.
Check-in: 14h00 - 20h00
Check-out: 12h00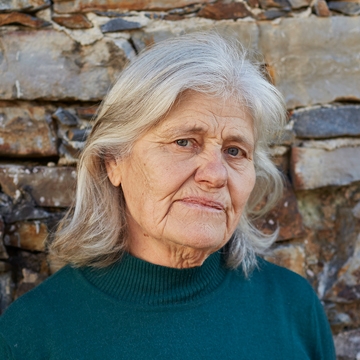 Host
Benvinda Santos
Mrs Benvinda always has delicious snacks/breakfasts available for her guests. Her roots are in the village of Vale das Casas and Água Formosa and she is an excellent guide for walking tours, particularly to Lagar da Ferrugenta along the Ribeira da Galega.
Margarida
"Fomos muito bem recebidos pela D. Benvida que nos deixou preparado um bolo, pão e broa de milho acabada de sair do forno. A casa estava equipada com tudo aquilo que precisávamos e estava tudo impecavelmente limpo. A casa é espaçosa e acolhedora. Certamente ficará o desejo de voltar." August 25, 2019
Luísa
"A Casa Nova é grande com espaço de refeições que acolhe bem um grupo de 10 pessoas, os quartos e a cozinha com todas as comodidades todas e acessórios necessários. Não há wi fi e a rede móvel é muito pouca.Tem ainda a mais valia de se poder utilizar o espaço verde exterior para refeição e com churrasco. A distância a pé até à vila da Água formosa, que é lindíssima, não é muita, mas prepare-se para subidas íngremes. A recepção da Dª Benvinda não podia ter sido mais acolhedora e com bons produtos caseiros para nos receber bem. Bela experiência que recomendo, com crianças sobretudo, pois o passeio ao lagar do Azeite e a proximidade das Praias fluviais são uma bela atração. Obrigada! Queremos repetir." June 17, 2019
Location
Rua da Lage, Água Formosa, Vila de Rei 6610-101
Latitude: 39.6347
Longitude: -8.09997