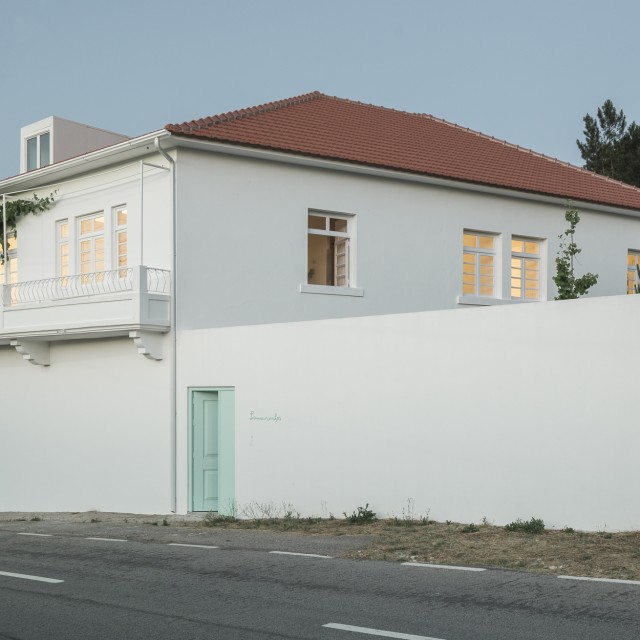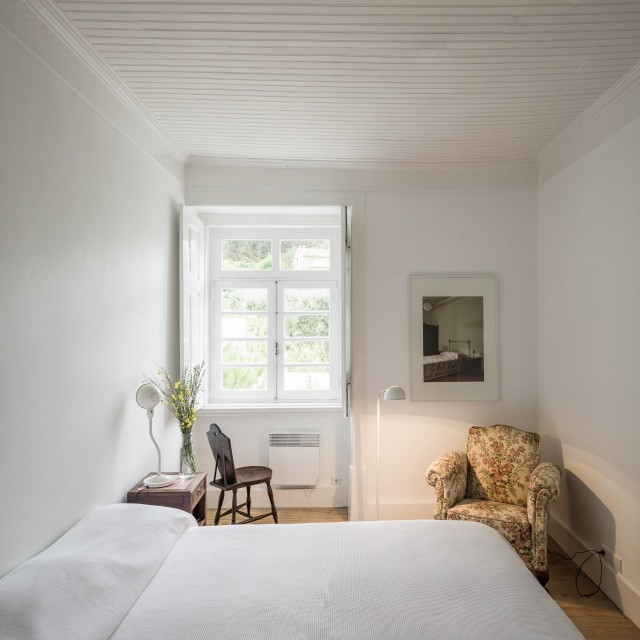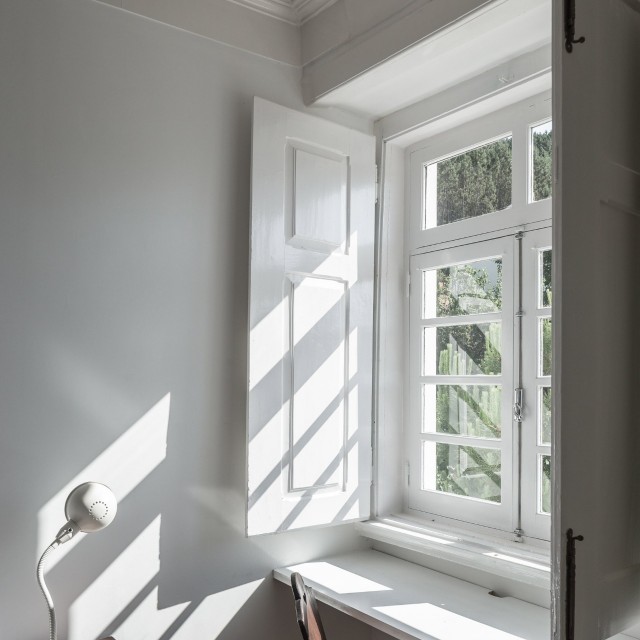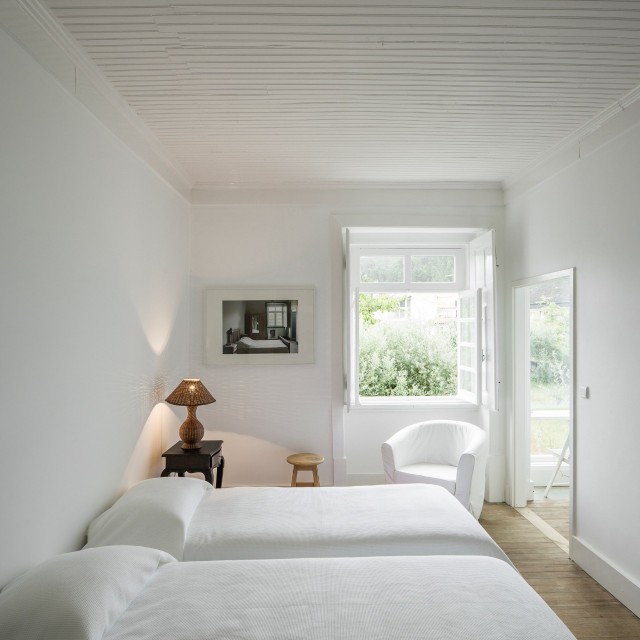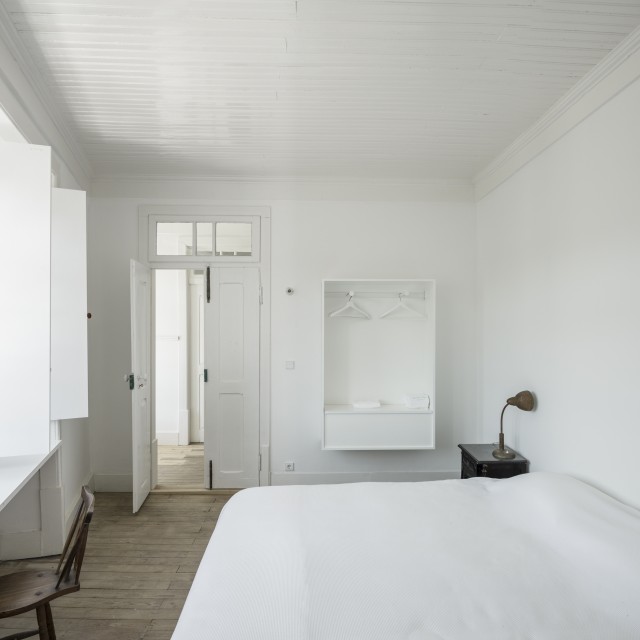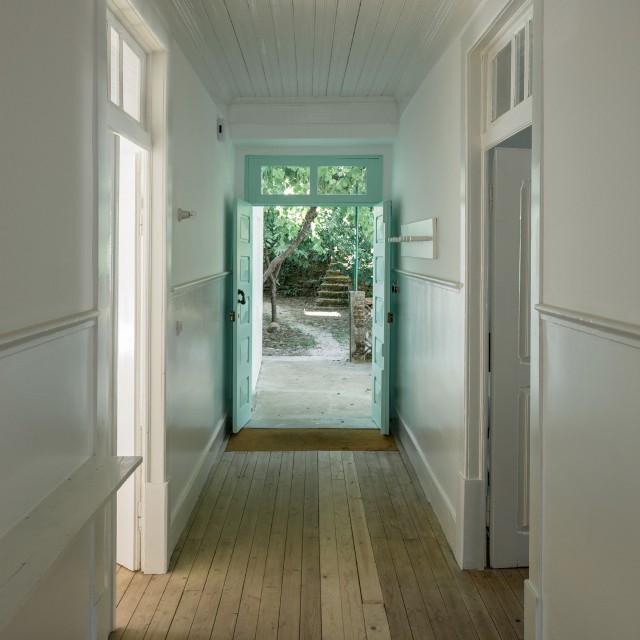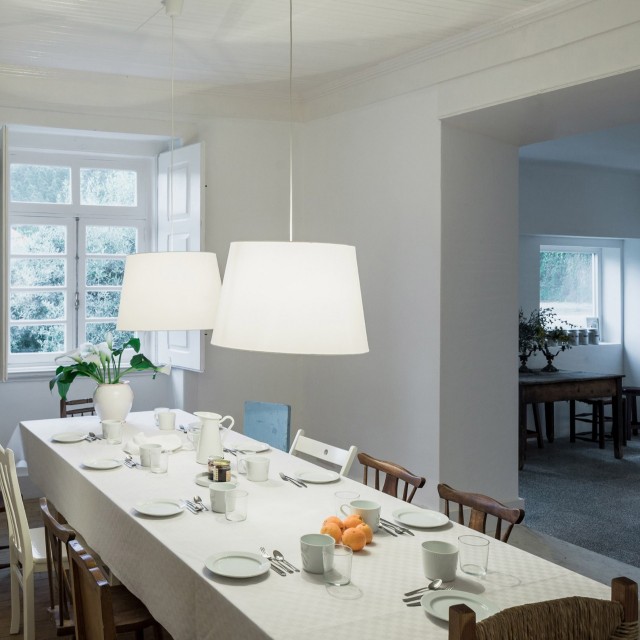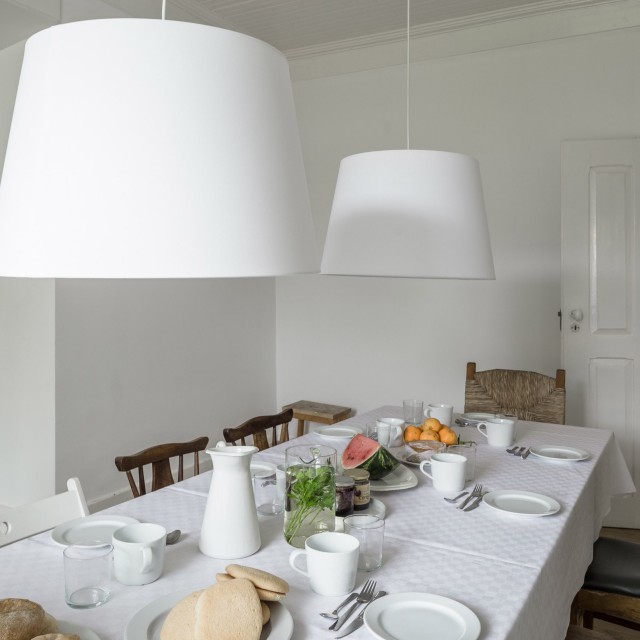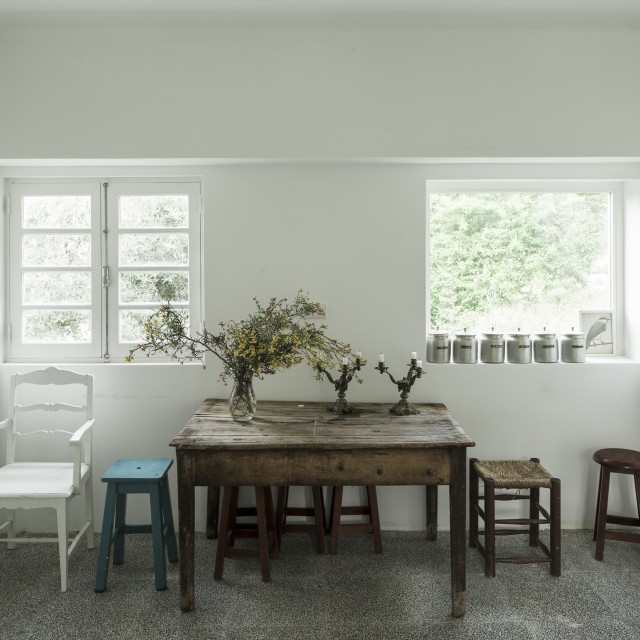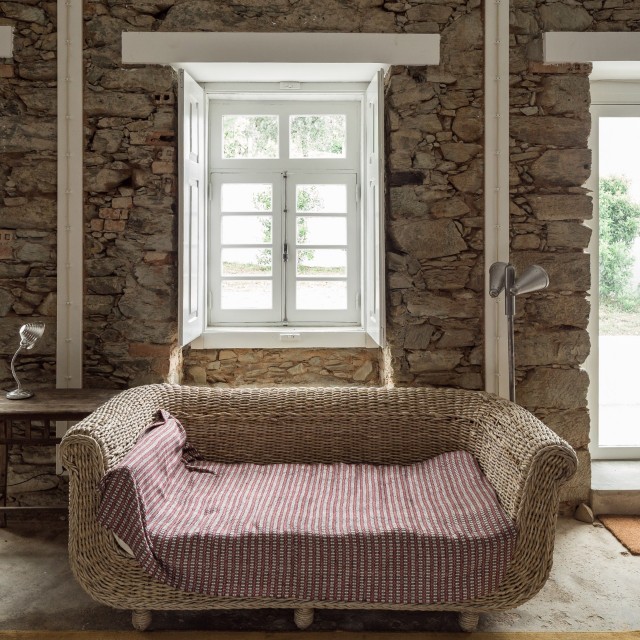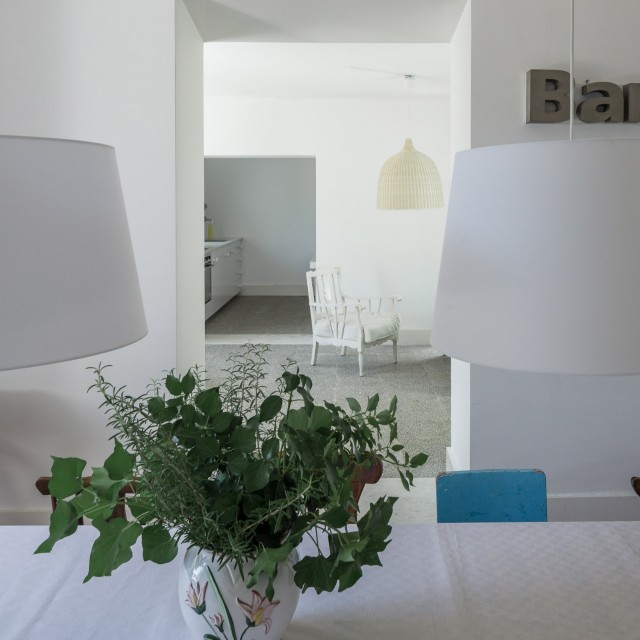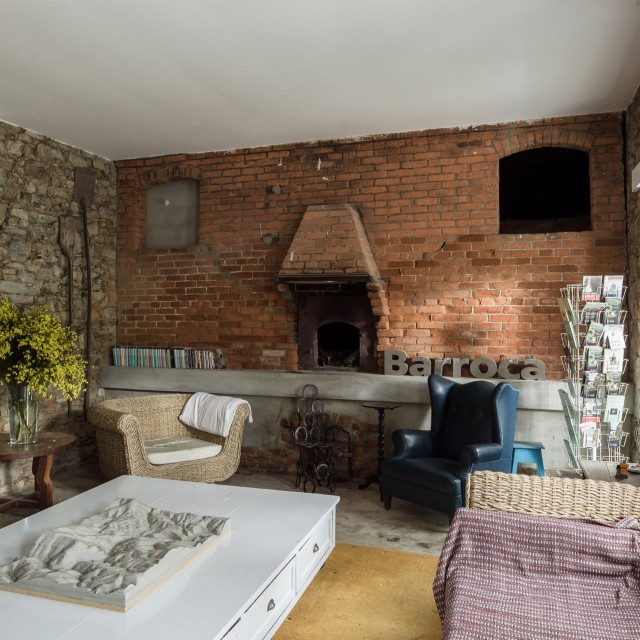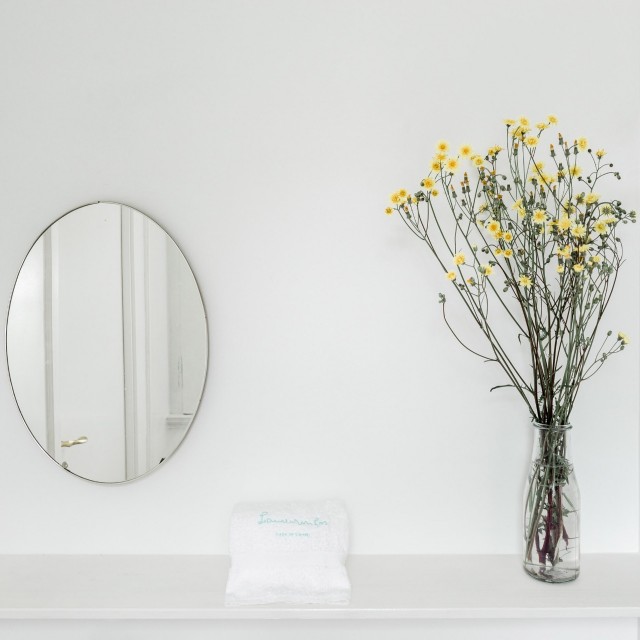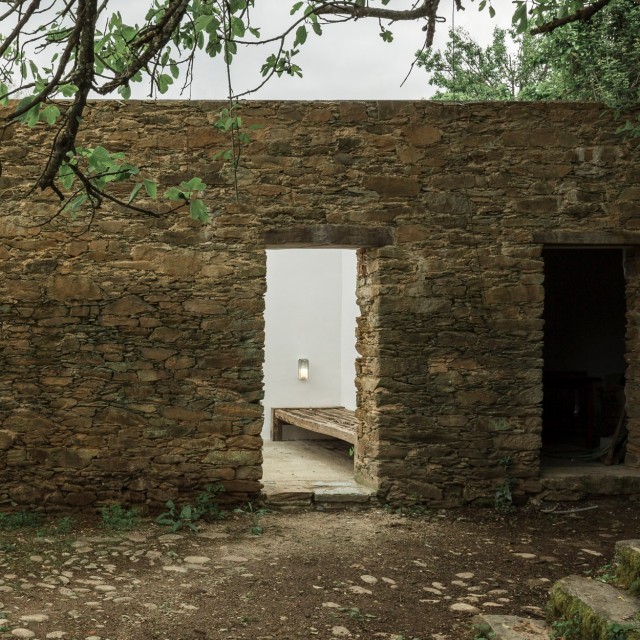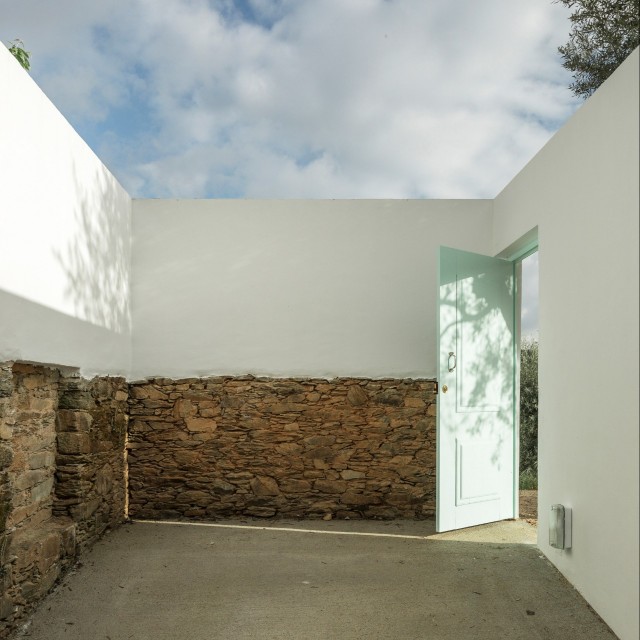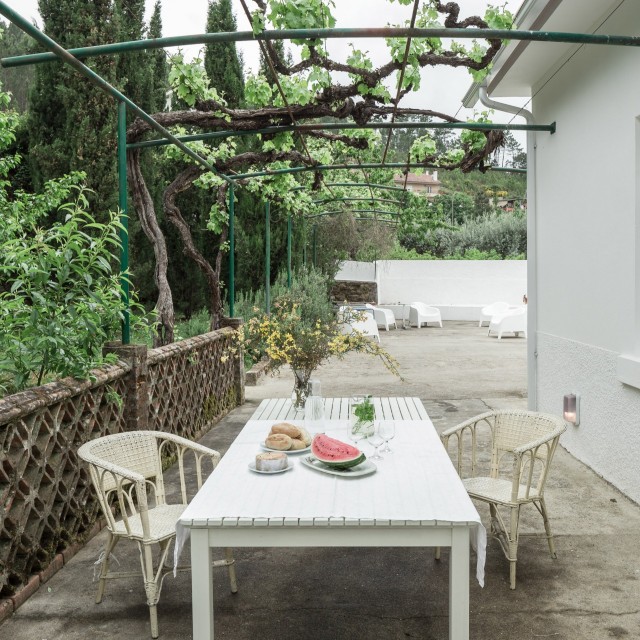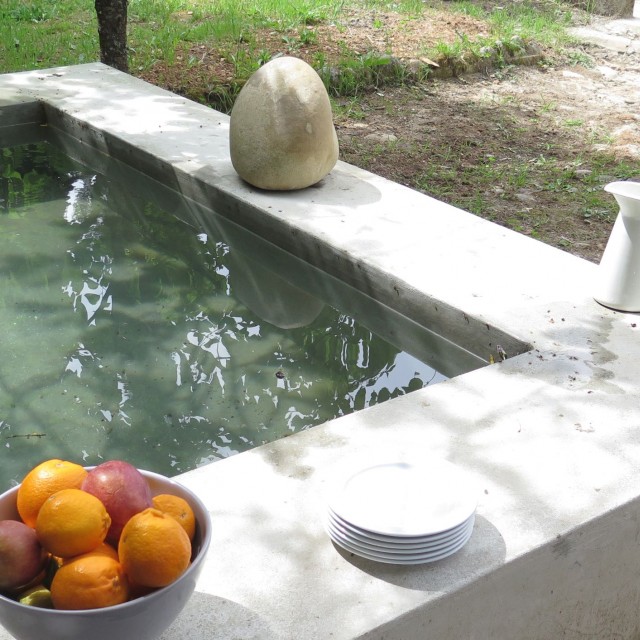 In 1945 our grandparents built a house in Sítio dos Lameirinhos. The house and farm were meant for living in and trade. Family life was upstairs, while a huge oven was built on the ground floor to serve the shop and a bakery, where butter, eggs, milk, fruit and other fresh produce from the farm were also sold. All these memories are still present in the house that we have renovated. Today, the bakery is a comfortable living room with shale walls. The oven has been retained and now also works as a fireplace. On the first floor, five of the six bedrooms have an en suite bathroom. One of the rooms, quieter, with bright windows over the courtyards, is a perfect place for reading. The upper patio, covered by a vine trellis that invites you to linger, connects with the pine woods and fruit trees. From the house you can take tracks up the mountain and along streams and the river, follow the paths of the Grande Rota do Zêzere, on foot or by bicycle, or go to one of the various river pools in the nearby villages.
Surrounding Area
PR1 FND Caminho do Xisto da Barroca - Rota das gravuras rupestres at 166m
Casa Grande - Manor house of the family Fabião at 376m
Poço do Caldeirão Prehistoric Art Interpretation Centre at 376m
PR6 PPS Caminho do Xisto Porto de Vacas Troço Mágico da GR Zêzere at 6.3km
PR 2 FND - Caminho do Xisto de Janeiro de Cima - Ó da Barca! at 8.2km
Restaurante Fiado at 8.2km
Information
Available all year round.
Check-in: 15h00 às 19h00
Check-out: 8h00 às 11h00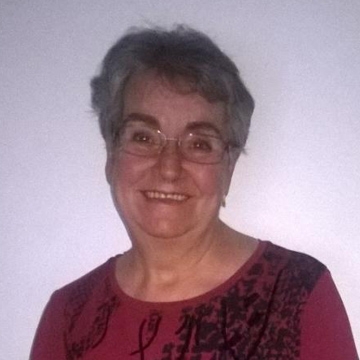 Host
Maria de Jesus
Maria de Jesus has been looking after the house for at least 30 years and therefore knows every corner of it. She lives in Barroca, in an old part of the village, and knows the old stories of the village better than anyone else. She has an amazing memory and can readily reel off dates and events. She remembers all the guests and knows when they were in the house. Their breakfasts are not easily forgotten, or the flowers in the vases and the scent of the sheets on the impeccably made beds. As a hostess she is also the soul of the house and she cares for it as if it were her own, as she has been doing for decades.
Location
Estrada Nacional 238, Barroca, Fundão 6230-137
Latitude: 40.105567
Longitude: -7.717875