The Chanfana Museum is established as a living museum of regional cuisine, housed in a multi-functional space and part of a broader project, which includes the Serra da Lousã Biological Park.

Chef Vítor Fernandes cooks dishes following authentic recipes and traditional methods. The restaurant features a striking array of regional dishes and offers themed menus for special days or occasions and menus associated with the programmes of the Biological Park.
Infrastructure
Adapted for people with reduced mobility
Surrounding Area
Serra da Lousã Biological Park at 918m
River beach of Louçainha at 6.7km
Castle and Church São Miguel at 7.8km
Misericórdia range at 7.9km
Aldeias do Xisto Welcome Centre at 8km
Arouce Castel in usã at 8.4km
River beach of nhora da Piedade at 8.6km
Nossa Senhora da Piedade Shrine at 8.6km
River beach of Segade at 10km
Information
Open every day from 12.30 to 3.00 pm and from 7.30 to 10.00 pm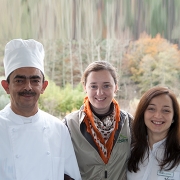 Host
Silvianne Suilen
Vítor Fernandes, Silvianne Suilen and Susana Gomes are the most visible faces of several teams that contribute to the same project. Vítor leads the team that, in the kitchen, ennobles the regional cuisine. Silvianne coordinates and links the restaurant with the Biological Park. Susana leads the dining room team that gives refinement and a family feel to the service.
Location
Quinta da Paiva, Miranda do Corvo 3220-154
Latitude: 40.082373
Longitude: -8.333058