Privacy and Personal Data Processing Statement
At ADXTUR - the Aldeias do Xisto Tourism Development Agency - we have an important responsibility and commitment to the security of our bookinxisto.com reservation platform so that the data of our customers and visitors is protected.

ADXTUR advises and invites you to consult the pages dedicated to the privacy and protection of personal data and the Terms and Conditions of the services, for which updates will be made available on bookinxisto.com.

ADXTUR, as part of the provision of its services, regularly needs to collect personal data from its customers - name and email being two obvious (but not the only) examples. Moreover, the frequent interaction of our customers through our sites also requires, in some cases, the collection of personal information from the user for the use of services provided exclusively by ADXTUR's partners or - in other cases - to improve the performance of applications, the collection of data from your computer through files known to the general public as cookies.

The Privacy and Personal Data Processing Statement helps you to understand how we collect, use and protect your personal information when you use our services or visit our websites.

For further information or answers to questions about this Privacy and Personal Data Processing Statement, please contact:

ADXTUR
Aldeias do Xisto Tourism Development Agency
Casa Grande - Centro Dinamizador
6230-137 Barroca, Fundão

or by email: turismo@aldeiasdoxisto.pt


DEFINITIONS


What is personal data?
Personal Data means any information of any nature regardless of medium, including sound and images, relating to an identified or identifiable natural person (data subject). Any person who can be identified directly or indirectly, namely by reference to an identification number or to more specific elements of his / her physical, physiological, psychological, economic, cultural or social identity, shall be considered identifiable.

Security of personal data
ADXTUR is permanently committed to ensuring the confidentiality and security of Customer data.

ADXTUR has systems and teams working to ensure the security of information, by creating and updating procedures to prevent unauthorized access, accidental loss and / or destruction of personal data.

ADXTUR undertakes to comply with the legislation regarding the protection of the privacy of Customer data, to process this data only for the purpose for which it was collected and to ensure that the data is processed with adequate levels of security and confidentiality, under the applicable legislation and the conditions set by the CNPD (National Data Protection Commission).

Although ADXTUR has implemented security measures for the reception of data over the Internet, please note that data moving around the Internet is not fully protected against possible diversions, and customers shall be responsible for the communication of passwords, confidential codes and any sensitive information.

Bookinxisto.com uses a server certificate, also known as a digital certificate, to secure our identity, as well as Secure Sockets Layer (SSL) encryption of transmitted data.


DATA COLLECTION


What data are collected and generated by ADXTUR?
As part of its activity, ADXTUR collects and processes the personal data necessary for the provision of services, but only e-mail addresses.

With the consent of the user, ADXTUR, collects the name, telephone number, postal address, e-mail address, gender, date of birth and preferred language of the customer, for use in marketing campaigns, prizes and newsletters. Also, when making a purchase on bookinxisto.com, we will also collect information on the address and NIF (tax ID), for billing purposes, and payment details.

ADXTUR may also collect other information about the customer's experience on our site so that we can improve our service.

On what grounds can we process your personal data?

These are the circumstances in which we process your personal data:

Consent
When you have given your prior express consent - in writing, orally or by confirming an option - and if such consent is free, informed, specific and unambiguous. Examples are when you consent to ADXTUR analysing the use of the services and consumption profile and making recommendations or sending marketing messages, using your identification data or use of services to send marketing messages with the aim of improving our quality of service;

or 

Making a reservation
When the processing of personal data is necessary to make and manage a reservation, e.g. for knowledge of language spoken and address to manage contacts, information and requests, for the management of billing;

When are your personal data collected?
In general, personal data is requested when you register or reserve one of our products or services on the bookinxisto.com website with your consent.

ADXTUR respects your right to privacy and does not collect any personal information about you without your prior consent. Some personal data must be provided for delivery of the service. ADXTUR will inform you about this obligation and if the required data is not provided, or is provided incorrectly, ADXTUR will not be able to offer the contracted service. The provision of incorrect or inaccurate data is your sole responsibility.

When you register
ADXTUR collects your personal data for the purpose of billing and is committed to privacy and security in the processing and holding of the personal data of each customer. Customer personal data will also be processed and used by its partners for billing purposes. The information that you send us is intended only to provide you with a service that is better tailored to your characteristics and needs. As such, in order to streamline the booking process, if necessary, we hereby inform you that your contact information and address will be transmitted exclusively to partner companies, listed in the Terms and Conditions, for the full delivery of the services contracted by their customers. The assignment and use of a password by bookinxisto.com has the purpose of preserving the security of your personal data. This password should not be shared with third parties. If you choose to share your password with third parties, you will be liable for any damage that may occur.  

When you pay
The whole operation of selection of payment method and entering the data involved in the payment of the order is properly protected.
All information is encrypted and managed with cutting edge security tools.

How do we collect your personal data?
We collect personal data through your consent when you register, booking products or services at bookinxisto or when you take part in market research.
The collection may be oral, in writing or through bookinxisto.com. Your personal information may also be collected from publicly accessible sources or other sources.
The personal data collected are processed electronically and strictly in accordance with personal data protection laws; data are stored in specific databases created for this purpose and in no case will the data collected be used for any purpose other than that for which the data subject gave consent.

What is the purpose of the collection of personal data?
Customer data is used by ADXTUR and its partners to process your reservations, notify you about important changes to site functionality, carry out surveys and obtain information for statistical purposes.
From time to time, we may also email you information about products and services, campaigns, promotions and special offers. Customers who do not wish to be contacted for these purposes may cancel the consent in their personal account.

When processing customer orders, it is possible that your data, such as your name, telephone number, email address, NIF (Tax ID), address and postal code, will be disclosed for contact and billing purposes.


DATA PROCESSING


Who is responsible for the processing of your personal data?
The party responsible for the collection and processing of your personal data will be the ADXTUR company and the partner providing the service or product and who, in that context, decides what data are to be collected, the processing methods and the purposes for which the data are used.

Under what circumstances is your personal data sent to other entities (subcontractors or third parties)?
Your data may be transmitted to subcontractors for processing on behalf of ADXTUR. In this case ADXTUR shall take the necessary contractual measures to ensure that subcontractors respect and protect the personal data of the data subject.
  Your data may also be transmitted to third parties - entities other than ADXTUR or subcontractors - such as ADXTUR partners offering accommodation, activity or restaurant services, for the actual management of the reservation, or entities to whom the data has to be sent by law, such as the tax authorities.  

What is the personal data retention period?
Your personal data are processed by ADXTUR only for the period necessary to achieve the defined purpose or, as applicable, until you exercise your right of opposition, right to be forgotten or if you withdraw your consent.
At the end of the retention period, ADXTUR will delete or anonymize the data if they are not to be kept for a different overriding purpose.

How can you access, correct or oppose the processing of your personal data?
In accordance with the applicable legislation, Customers are guaranteed the right of access to data directly related to them, and may request correction or addition in their user profile or, if they do not have access, they may contact ADXTUR for this purpose.

Customers may also object at any time to their data being processed, except where strictly necessary to provide the service, and / or may require deletion of their data for marketing or telemarketing purposes or inclusion in lists of subscribers and information services, for which purpose they must change the consents in their user profiles or, if they do not have access, they should contact ADXTUR in writing or by email: turismo@aldeiasdoxisto.pt

Customers must keep their account access data information secure, as any action or request made through their account will be their responsibility. We recommend that Customers do not store passwords in browsers, as other people with access to the computer can view and use this personal information.

How can you find information on any changes to ADXTUR's Privacy Policy?
ADXTUR reserves the right to make adjustments or changes to this Privacy Policy at any time, these changes being duly publicized on the various ADXTUR websites.


COOKIES


How do we use cookies?
"Cookies" are small software labels stored on your computer through your browser, but only holding information related to your preferences, not your personal data.
To learn more about cookies and how ADXTUR uses them on their websites see the following Cookies document.
Cookies Policy
Through this cookies policy, ADXTUR intends to inform you, clearly and transparently, about the use of cookies on the bookinxisto.com website.

What are Cookies and what are they for?
Cookies are small text files generated by the sites you visit and stored through your browser on your computer or mobile device when you visit websites.
They contain information about browsing data and features and enable an additional service to be offered: improving your browsing, making it faster and more efficient, ensuring your connection or adapting the content of a page to your interests and helping companies to understand browsing habits and optimize their sites. No personal data is stored. Due to their important role in website performance, blocking access to browsing cookies will prevent access and efficient browsing on many sites.

What Cookies does bookinxisto.com use?

Technical Cookies
To store user preferences for site usage, so that you do not need to reconfigure the site each time you visit.
They mean that you can browse the website, use its applications and access secure areas of the website. Without these cookies, the services you have requested cannot be provided.

Analytical cookies
Used anonymously to generate and analyse statistics to improve the operation of the website.
Cookies used to gather information about how visitors browse the site, for the creation of reports to help bookinxisto to improve its operation. Cookies collect anonymous information, such as number of visitors, number of pages visited, time spent visiting each page, etc. All this information is necessary to ensure a good user experience and good website performance.

Remarketing Cookies (targeted advertising)
Used to target advertising according to the interests of each user, by presenting advertising campaigns taking account of user preferences, and also to limit the number of times they see the ad, thus helping to measure the effectiveness of advertising and the success of the organization of the website.
It is important to clarify that ADXTUR does not have access to the user's personal data, only their browsing data.
The table below identifies the cookies used and their purpose: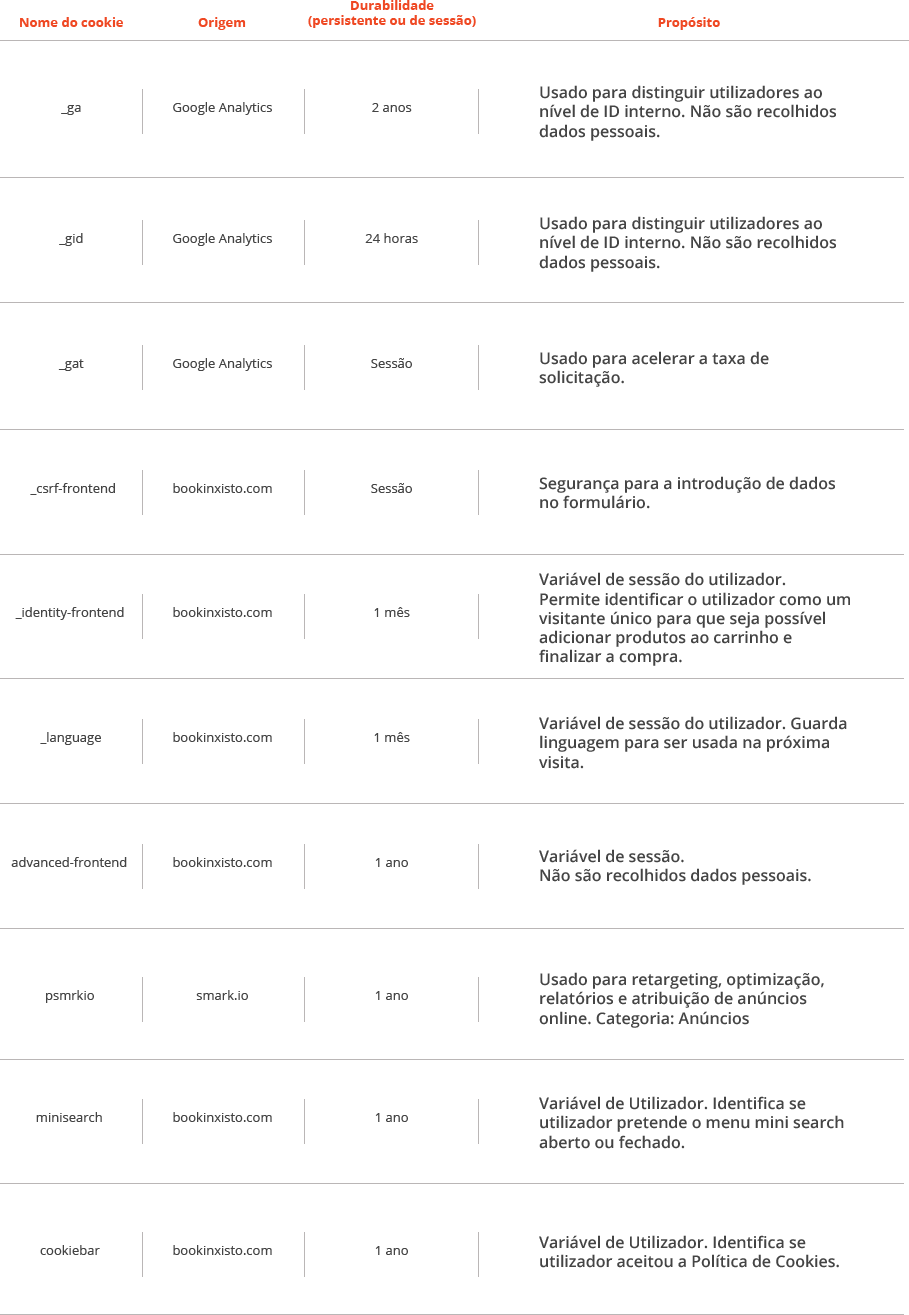 Which entities can access the information collected by Cookies?
The information collected by cookies may be used by ADXTUR, its subcontractors or partners.
What happens if the use of cookies is not authorized?
If you prefer not to allow cookies you can disable cookies in the browser that you use, but you should be aware that this may prevent some web pages from being rendered correctly.
How can you cookies be managed?
The following addresses provide information on managing cookies in the main browsers:
Chrome ™
Firefox ™
Internet Explorer ™
Opera ™
Safari ™
Latest update: 22-05-2018