With the Santa Luzia Dam and reservoir, in Casal da Lapa, as the setting, this adventure offers participants 4 sporting activities: Canoeing, Abseiling, Archery and hiking.

Built between two huge outcrops, the Santa Luzia dam is one of the most stunning landscape areas of the district of Pampilhosa da Serra and the entire region of the Aldeias do Xisto.

It is sure to be a unique day, full of adventure, adrenaline, competition and mutual support, combined with periods of creativity and relaxation. To recharge batteries, the activity also includes a hillside picnic, featuring the typical products of the region.

Surrounding Area
Dam river beach of Santa Luzia at 731m
River beach of Lavandeira in Janeiro de Cima at 5.5km
Paths and tracks at 5.6km
Private buildings from the 17th-18th centuries at 5.6km
Loja Aldeias do Xisto Shop window in Casa das Tecedeiras at 5.6km
Janeiro water wheel at 5.6km
S. Sebastião Chapel at 5.6km
Casa das Tecedeiras at 5.6km
Information
Programa:

Program:

- 09h00: Photo Record at Santa Luzia Dam
- 11h00: Canoe trip
- 12h30: Hillside picnic
- 14h30: Hiking
- 15h30: Archery activities
- 16h30: Abseiling
- 17h30: Epic Land Offer

What's included:

- Rental of equipment used for the selected activities
- Insurance for all participants
- Specialized guides (if the customer wishes)
- Hillside picnic
- Photo record



- Transfer to the activity site (only for customers staying in the municipality of Pampilhosa da Serra)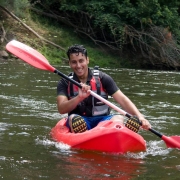 Host
Fernando Saraiva
Fernando Saraiva holds a degree in Sports Science and has more than 10 years' experience in adventure sports. Having always lived in the interior of Portugal, at a young age he began to practice activities that reflect his passion for tourism and nature. River walking, canyoning, river descents, mountain biking, abseiling and climbing are some examples of the services he offers.
Gonçalo
"Experiência 100% positiva. Obrigado " June 26, 2019
"Fantastic!" May 07, 2019
Location
Barragem de Santa Luzia, Pampilhosa da Serra 3320-391
Latitude: 40.090496
Longitude: -7.85816