"Ver uma planta a crescer, observar a sua intenção, é perfeito. Ela utiliza simplesmente a forma, as cores e texturas certas para cumprir o seu design, flexível e vivo (...)"

É com este olhar curioso que a ceramista Robbie Heidinger encara tudo à sua volta. A vida e as suas formas orgânicas tornaram-se a fonte de inspiração para o trabalho artístico que tem vindo a desenvolver. No Curso de Cerâmica e Cozedura a Lenha, que decorre na Aldeia do Xisto da Cerdeira, de 3 a 10 de maio, Robbie guia os participantes neste mundo de descoberta, procurando ajudá-los a tirar o melhor partido das suas ideias e criatividade através da sua vasta experiência.

O foco de trabalho neste curso é a construção por placas para criar peças escultóricas ou utilitárias. Após a demonstração e exploração das técnicas de stencil, monoprinting e aplicação direta de engobes, os participantes escolhem a opção que melhor tira partido da exposição ao fogo e à chama.

Todos os participantes têm a oportunidade de cozer as suas próprias peças no Sasukenei – Forno sem Fumo. A cozedura a lenha, o diálogo dinâmico entre a forma e o fogo e a participação ativa neste processo é uma experiência única da qual todos poderão fazer parte.
Requirements
This experience does doesn't have any features configured
Surrounding Area
Nossa Senhora de Fátima Chapel at 68m
Nossa Senhora da Piedade Shrine at 3.5km
River beach of nhora da Piedade at 3.5km
Santo António da Neve at 4.1km
Oven and still set of theClaro Family at 4.2km
Maternity home for trees at 4.5km
Coirela das Agostinhas Centre at 4.5km
Information
Preço: 880€/pessoa
Data: 3 a 10 maio

O valor do curso inclui:
- Jantar de boas vindas
- Integração em pequenos-grupos de trabalho (4 a 6 pessoas)
- Formação 6 a 8h/dia com assistente técnico, falada em inglês e português
- Atelier aberto 12h/dia
- Todos os materiais
- Oferta de alojamento em quarto partilhado nas residências (casa partilhada com cozinha equipada, balneários, máquina de lavar roupa e wi-fi) ou 10% de desconto numa das casas da Cerdeira – Home For Creativity (mínimo de 2 noites)

Horário
- 10h00 - 13h00
- 15h00 - 18h00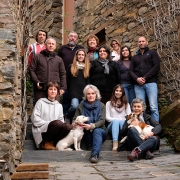 Host
Natália e José
"We first started visiting our friends, Kerstin and family, in Cerdreira 20 years ago. We fell in love with the place and decided to do something to help preserve and restore it. With the help of three generations of the family, we set to work. We restored the first house – the shrines. We loved it. Since then, we haven't been able to stop. Social responsibility and ecological sustainability are basic concepts for us, applied not only during the reconstruction stage, with local labour techniques and use of ecological materials, but also in our day-to-day operation!" Natalia and José.
Location
Lugar da Cerdeira, Lousã 3200-509
Latitude: 40.094034170265
Longitude: -8.1940850290832