Far from the big cities, with no light pollution, Pampilhosa da Serra offers one of the best places in the country for observing the night sky.

This program takes you to be dazzled by the brightness of the night sky in an observation conducted by the guide Samuel Batista, allowing you to identify constellations, planets and galaxies. This experience is completed with a photo session under the stars.

Licenças: RNAAT 1198 / 2017 | RNAVT 8348
Surrounding Area
PR8PPS Schist Walking Trail Pampilhosa da Serra Rota do Rio Unhais at 572m
MTB Center Pampilhosa da Serra - Casal da Lapa at 674m
Dam river beach of Santa Luzia at 786m
PR9 PPS - Schist Walking Trail Pampilhosa da Serra - Rota do Velho Unhais at 2.6km
River beach of Lavandeira in Janeiro de Cima at 5.6km
PR 2 FND - Schist Walking Trail Janeiro de Cima - Ó da Barca! at 5.7km
Restaurant Fiado at 5.7km
Paths and tracks at 5.7km
Private buildings from the 17th-18th centuries at 5.7km
Information
Price per person: 30€

Duration: 1 hour

Minimum number of participants: 4 people

Includes:
- Accompaniment by local guide.
- Rental of equipment inherent to the practice of selected activities.
- Insurance for all participants.
- Photographic register.

All prices shown include VAT at the legal rate in force.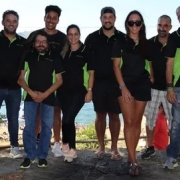 Host
Epic Land
Epic Land is a tourist animation company and travel agency that promotes and dynamizes adventure and nature tourism in Portugal, with a greater focus on the interior of the country, by carrying out numerous indoor and outdoor activities.
Whether in water or land, we provide epic and unforgettable experiences to repeat later!
With a young and dynamic team, we are the ideal partners for those who want to organize a day full of adventure and entertainment, pleasing children and adults alike.
Location
Vidual de Baixo, Pampilhosa da Serra
Latitude: 40.092430360432
Longitude: -7.8579993716888