Discover nature in a unique way! This is an introductory activity to canyoning and consists of a walk down the river, using footwork, jumps and natural slides.
Obstacles are optional. Depending on the time available, rappelling in a waterfall / natural rock may be included.

There are 3 hours full of animation and with the right to photographic record.

Licença RNAAT - 1198/2017
Surrounding Area
PR9 PPS - Schist Walking Trail Pampilhosa da Serra - Rota do Velho Unhais at 1km
MTB Center Pampilhosa da Serra - Casal da Lapa at 4km
PR8PPS Schist Walking Trail Pampilhosa da Serra Rota do Rio Unhais at 4km
Dam river beach of Santa Luzia at 4.2km
Monsenhor Nunes Pereira Museum at 5.1km
São Salvador Chapel at 5.1km
Nossa Senhora da Guia Chapel at 5.1km
Restaurant O Pascoal at 5.2km
Information
Price: 55€/person

Includes:
. Monitoring;
. Rental of equipment inherent to the practice of the activity;
. Safe for all participants;
. Photographic register.

All prices shown include VAT at the legal rate in force.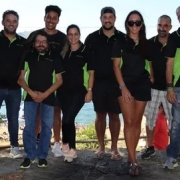 Host
Epic Land
Epic Land is a tourist animation company and travel agency that promotes and dynamizes adventure and nature tourism in Portugal, with a greater focus on the interior of the country, by carrying out numerous indoor and outdoor activities.
Whether in water or land, we provide epic and unforgettable experiences to repeat later!
With a young and dynamic team, we are the ideal partners for those who want to organize a day full of adventure and entertainment, pleasing children and adults alike.
Location
Piscina Fluvial do Vidual
Latitude: 40.122242657937
Longitude: -7.8741010357208