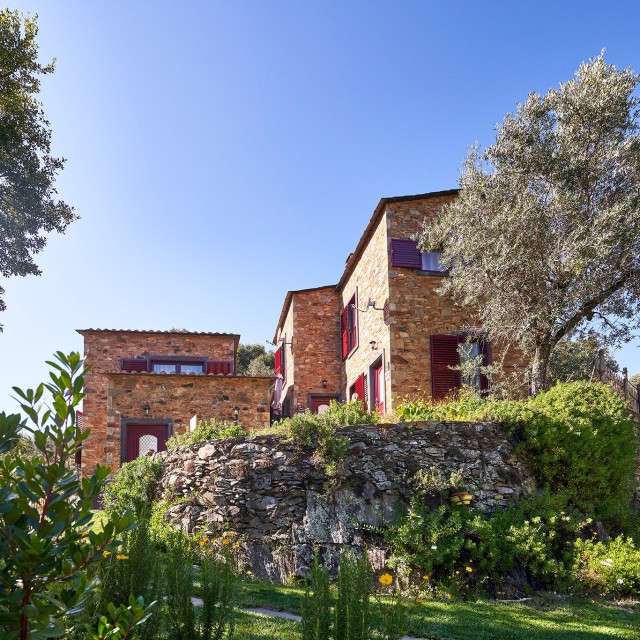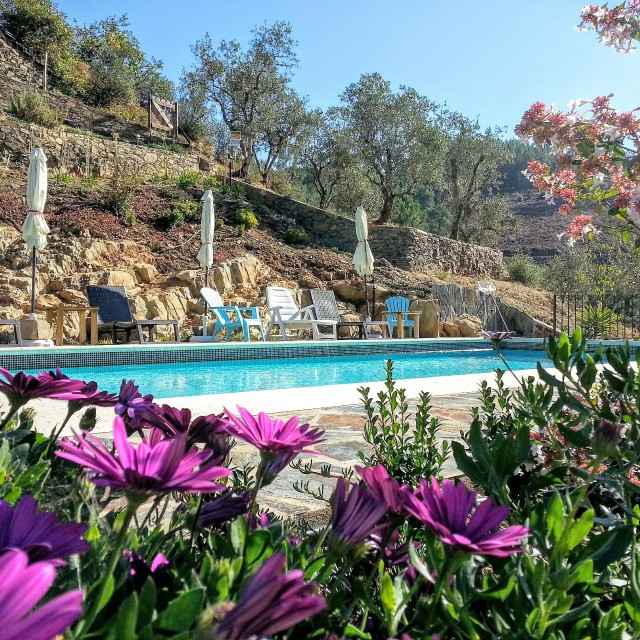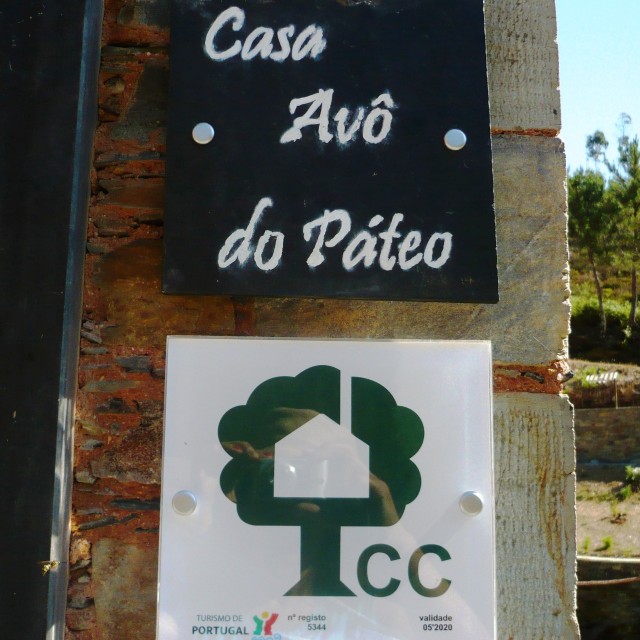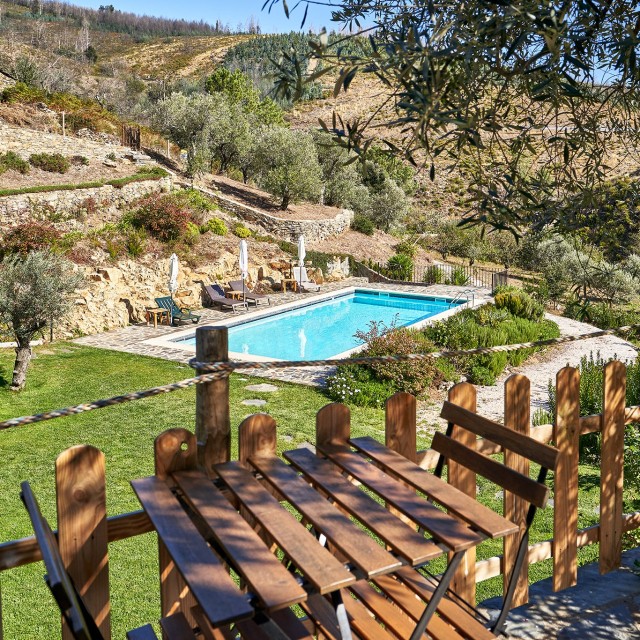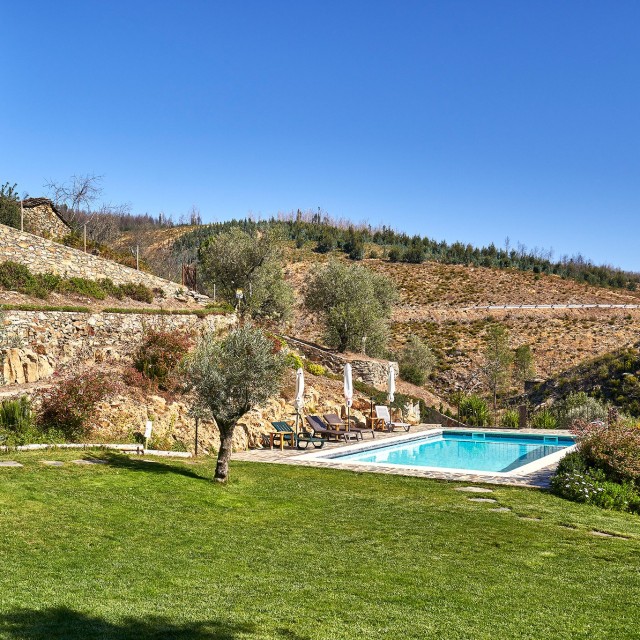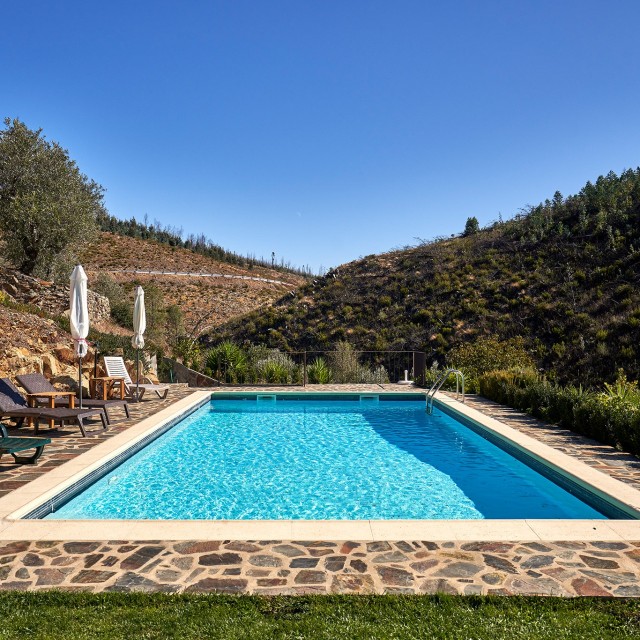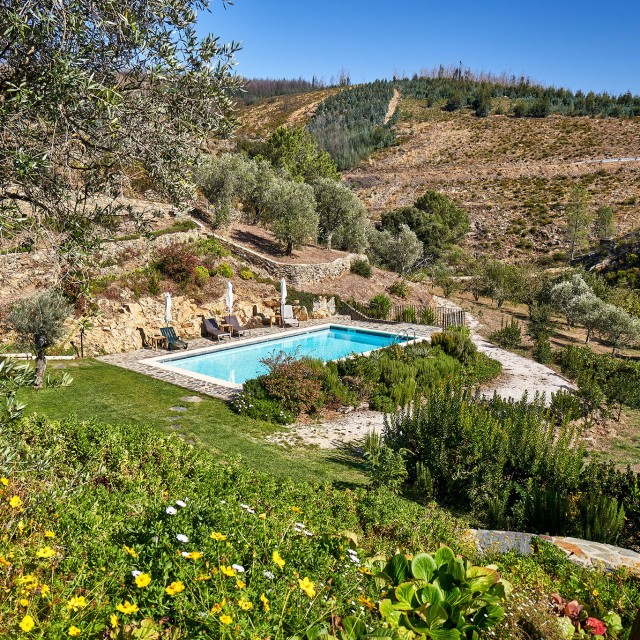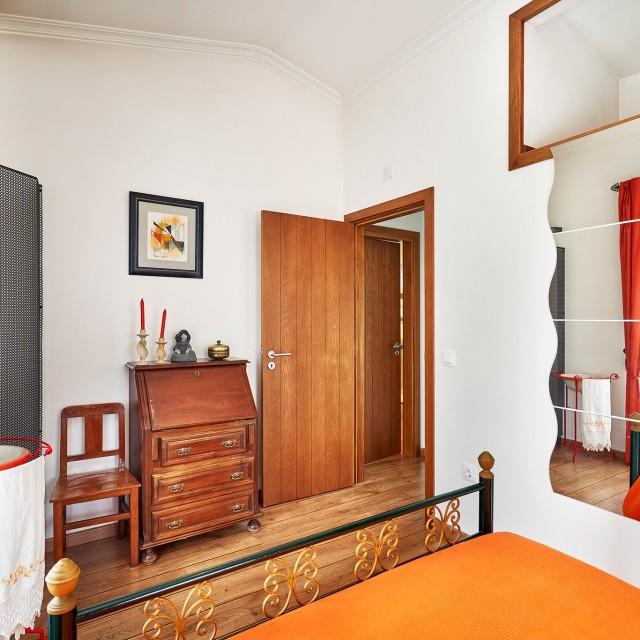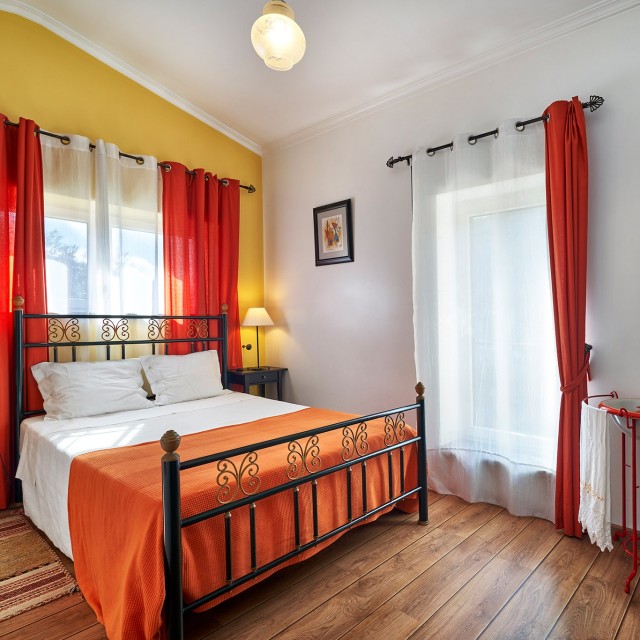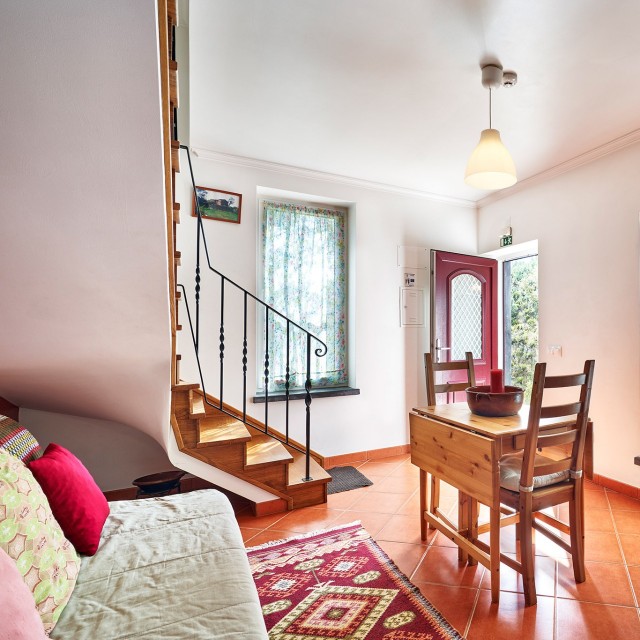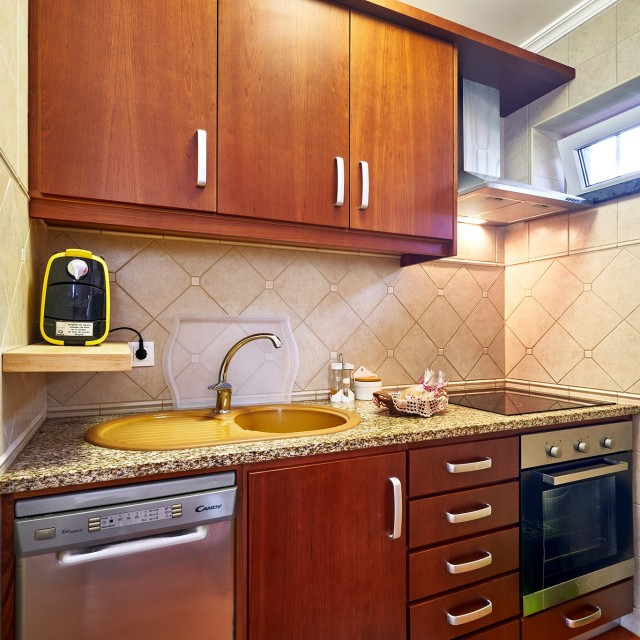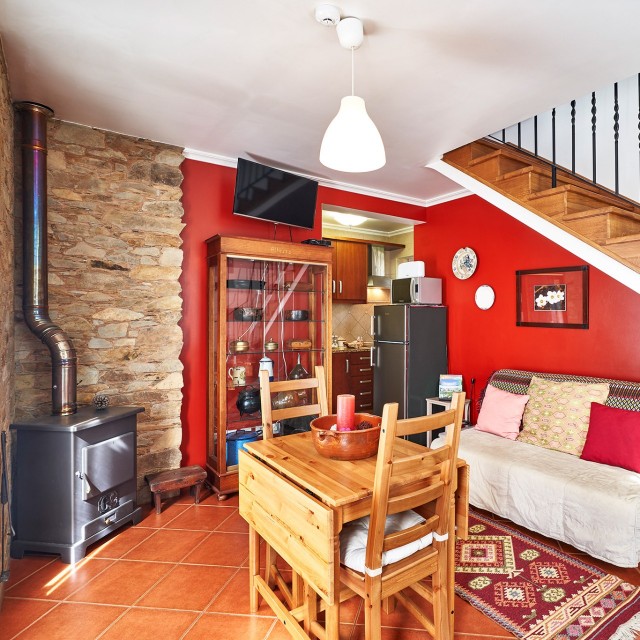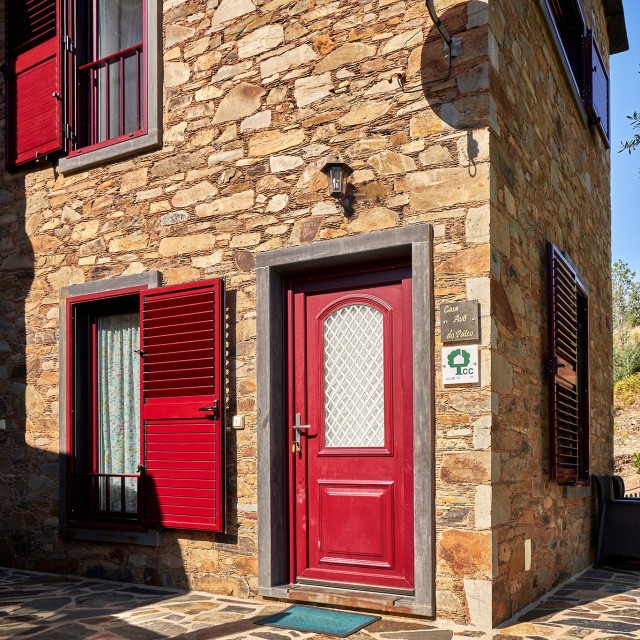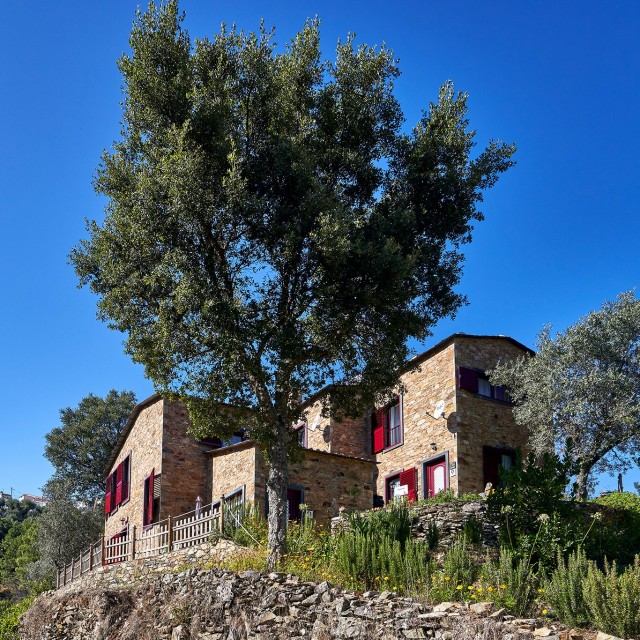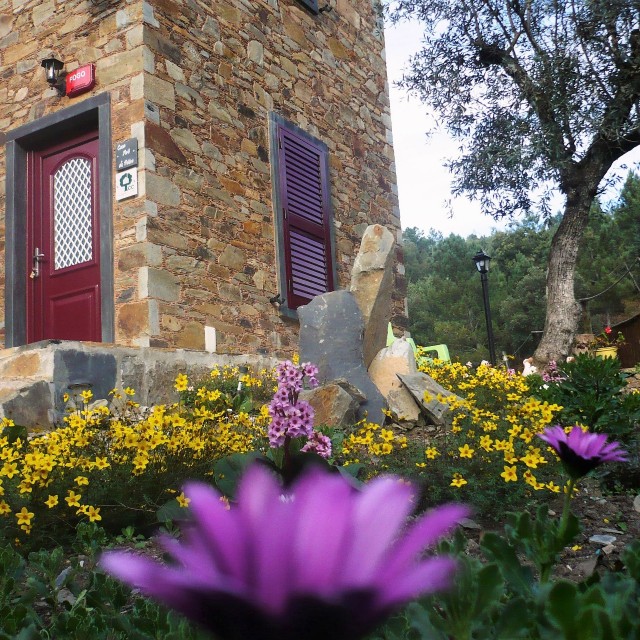 Casas do Couratão are the result of the reconstruction of old wine cellars, with the aim of preserving the past, by making use of the nostalgia of shale. The building has been designed so as to provide guests with rustic architecture, combined with interior comfort. The current decoration includes antique items.

The accommodation also has a logistics support room, parking, a terrace with a barbecue, swimming pool, garden, olive grove and fruit trees. The oil, with its pleasant palate and the fruits of the orchard are often found at the meal table.

The various walled terraces give the space a unique atmosphere and are one of the most striking features of this property, which blends harmoniously with the surrounding landscape, the silence disturbed only by birdsong and the crystal clear waters bubbling in the nearby stream.

This Rural Tourism accommodation consists of 3 houses, and can host a total of 14 people. Casa Avô da Quinta has 1 double bedroom, WC, living room with TV and sofa bed for 2 people, fully equipped kitchenette.

Surrounding Area
River beach of Pessegueiro at 4.1km
Aldeias do Xisto Shop in Pampilhosa da Serra at 8.2km
River beach of pilhosa da Serra at 8.6km
PR 9 GOI - Schist Walking Trail Aldeias de Góis – Trilho do Baile at 8.7km
Oven and still set of theClaro Family at 9.9km
River beach of Peneda/Pego Escuro at 10km
Maternity home for trees at 10.7km
Coirela das Agostinhas Centre at 10.7km
Schist Traditions Ecomuseum at 10.7km
Information
Check-in: From 16:00 to 20:00.
Check-out: By 12:00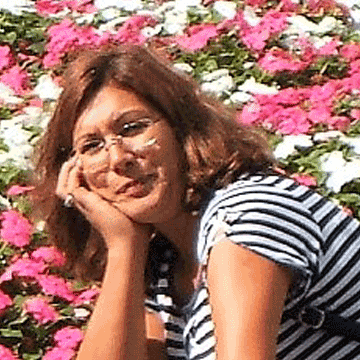 Host
Ilda Rodrigues e Filomena Alves
Casas do Couratão are the realization of the dream of Ilda Rodrigues and Filomena Alves, the granddaughters of the former owners. The mission they took on and now share with their guests was to recover and give new life to a space left behind by their ancestors, to preserve its memory.
Florbela
"Espaço fantástico! Bem cuidado, inserido num vale encantado, no meio da ausência de ruído tóxico. Só os passarinhos, o vento e o som da água do riacho. Sem dúvida dos melhores locais onde já tivemos. Só custou mesmo deixá-lo. Deixa saudades e memórias das melhores! Obrigada! " September 08, 2023
"Foi muito bom , adoramos, ótimas condições excelente espaços.. muito bom . Uma experiência a voltar a repetir. " June 27, 2023
"Um espaço maravilhoso, perfeito para descansar e estar em contacto com a natureza. Casa bem equipada com tudo o que é preciso! A repetir! " May 02, 2023
"Espaço muito bonito no meio de um ambiente totalmente natural. A zona exterior é bastante atrativa. Muito simpática a Marta Silva que nos deu dicas de passeios pelo concelho da Pampilhosa da Serra. A melhorar a luz interior da casa que, apesar de ter diversas janelas, ao final do dia/ noite precisa de mais pontos de luz. " September 20, 2021

Ana
"Good Morning! We loved our family stay. It is a very nice place, very quiet and relaxing. The gardens are wonderful and you can breathe in the peace and quiet! We loved the care and attention that we received. The house is very comfortable. Thanks once again. Till next time!!! Best Regards, Ana Rodrigues" April 30, 2019
Manuel
"I really appreciated the kindness and the welcome of D. Irene and Mr. Domingos, the peace and quiet of the place, the beauty of the surrounding nature and the comfort and cleanliness of everything in general." April 23, 2019
Location
Pessegueiro, Pampilhosa da Serra 3320-309
Latitude: 40.088086588355
Longitude: -8.0352175423279