Casa das Estórias pays homage to the rich oral traditions preserved in villages of the Beiras region. During the long winter nights, people told stories from ancient times around the fire, often with fantastic and supernatural details that were passed from generation to generation and that local reading collections still reveal today.

The entrance of this cosy two-storey house is at ground floor level, along with a kitchen, dining area and lounge with wood burner, an armchair and a comfortable sofa bed. The upper floor consists of a double bedroom, a living area with sofa bed and a bathroom.

This floor will also lead you out onto a large balcony with a view of the village's natural pool. An ideal place for enjoying family meals, reading a book to the sound of the trickling stream or for counting the stars at night. The artistic ceramic work of Carmina Anastácio and Martim Santa Rita on display at this house have their own stories to tell.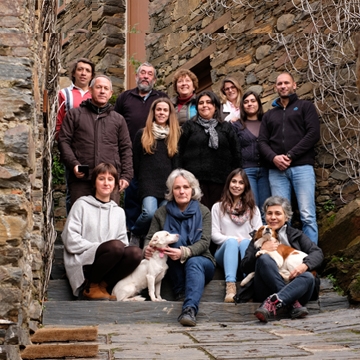 Host
Natália e José
"We first started visiting our friends, Kerstin and family, in Cerdreira 20 years ago. We fell in love with the place and decided to do something to help preserve and restore it. With the help of three generations of the family, we set to work. We restored the first house – the shrines. We loved it. Since then, we haven't been able to stop. Social responsibility and ecological sustainability are basic concepts for us, applied not only during the reconstruction stage, with local labour techniques and use of ecological materials, but also in our day-to-day operation!" Natalia and José.
Location
S/ nome de rua 3200-509
Latitude: 40.094181903949
Longitude: -8.1954154047546