The Casa de Urze is set in beautiful Talasnal, one of the Schist Villages, a well preserved village with almost seventy houses on the hills of Serra de Lousã, at an altitude of 500 m.
Completely restored, respecting its original features, Casa da Urze is equipped with all the necessary comforts and boasts magnificent views over the Serra da Lousã. In addition to enjoying the views and fresh air, visit the nearby ice holes and traditional water-powered olive oil mills.
Surrounding Area
Nossa Senhora da Piedade Shrine at 1km
River beach of nhora da Piedade at 1.2km
Aldeias do Xisto Welcome Centre at 2.5km
Nossa Senhora de Fátima Chapel at 2.7km
Arouce Castel in usã at 2.9km
Santo António da Neve at 6.2km
Oven and still set of theClaro Family at 6.8km
Information
Available all year round.
Check-in: 17h00 - 19h30
Check-out: 10h30 - 11h30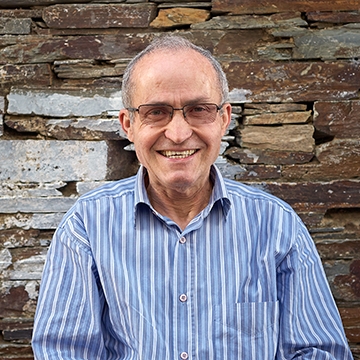 Host
Emídio Lopes e Maria José
Memories of Scout camping trips next to the old Talasnal primary school, are what brought Maria José back to the village, 30 years later. This time with Emídio and a tourist project they were to develop together. In 2005, they bought the only house that was for sale. Casa da Urze and O Retalhinho also bring back memories. Memories can be very sweet.

Paulo A.
"Do infimo pormenor dentro da casa, da sua rusticidade, da simpatia dos proprietários, da sua localização, do ambiente. " February 03, 2020

João
"Foram dias de descanso puro. A casa muito bem decorada, espaços aconchegantes,sem nada de negativo a apontar. Foram dias de chuva e frio, mas a lenha para a salamandra aqueceu a casa e ajudou a um ambiente mágico. A simpatia do Sr. Emídio e da D.ª Maria José foram uma mais valia para nos sentirmos em casa. Muito cuidadosos e atenciosos. O sossego e o contacto com a natureza é tanto que num passeio pela aldeia durante a noite foi possível observar uma vara de javalis. Uma boa experiência!" December 06, 2019
Cláudia
"A Casa da Urze é o que esperamos de uma aldeia maravilhosa como é a aldeia do Talasnal. A lareira e os objetos da casa que nos transportam para um passado fazem da estadia inesquecível. Casa limpa e boa recepção. Recomendo! " November 12, 2019

Alfredo
"The stay was everything we hoped for. A very well decorated and very beautiful house, fully in keeping with the mountain environment. Very clean and comfortable house and extremely friendly hosts who provided us with a pleasant stay. We were close to nature with two days' rain. We promise to return." April 29, 2019
"The friendly, helpful hosts were always very attentive. They made us feel at home. The space is very cosy and has all the necessary amenities, a great place to relax away from the city. Highly recommended! Congratulations on the space, we really liked it!" April 29, 2019
Location
s/ rua Talasnal, Lousã 3200-120
Latitude: 40.092456
Longitude: -8.225922