Casa do Zé Sapateiro is located in Ferraria de S. João, in the Penela district, and is completely restored to welcome up to 14 guests in a caring family atmosphere. Guests can choose from six double rooms and one suite, which are all heated with a private bathroom. The house offers a lounge, dining room and interior patio.

The old corn mill in reception reminds us of day-to-day life in olden times.
Surrounding Area
Misericórdia range at 4.9km
River beach of Louçainha at 6.1km
São Simão Chapel at 6.3km
Shop in Casal de S. Simão at 6.3km
Fragas de São Simão river beach at 6.4km
River beach of Ana de Aviz at 7km
Castle and Church São Miguel at 8.3km
River beach Rocas at 10.5km
São Pedro Chapel at 12.4km
Information
Available every day.
Check-in: 15h00 - 21h00
Check-out: 7h00 - 12h00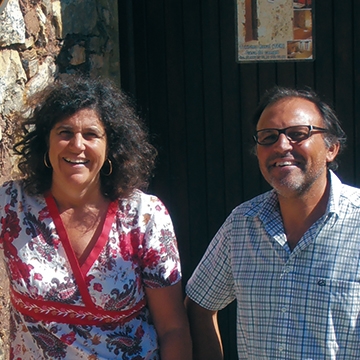 Host
Paulo Guilherme
There are some old houses that seem made for us. That's exactly what they felt. But they needed to untangle some knots of nostalgia: the Casa do Casal S. Simão, after many great weekends, was left in good hands, and Marinha Grande's profession seemed further and further away. With a huge smile on her face, they tell us: "It was worth it!" Paulo and São really know how to welcome you.
"Is was a great experience. The owners are very nice and helpful. The house was great and comfortable. The breakfast was very complete, with regional products and homemade cookie. We will be back for certain." November 04, 2019
"Fantastic facilities, very cosy, a comfortable and pleasant place. Very friendly and attentive owners. We'll definitely be going again!" April 24, 2019
Location
Ferraria de São João, Penela 3230-018
Latitude: 39.973477903403
Longitude: -8.3237730634766