10 km from the Geodesic Centre of Portugal, the village of Água Formosa hides away on a sunny slope between the Ribeira da Corga and the Ribeira da Galega. Upon arrival, you are greeted with peace, interspersed with the trickling of water between the rocks in the riverbed.

You can still find evidence of ancient traditions here, such as a number of wood-burning ovens scattered around the village and also of traditions calling on the power of the water. At the Aldeias do Xisto Shop you will find a selection of the best products in the region. À

Casa do Forno is on the main street that connects the bridge over the Ribeira da Galega to the spring of Água Formosa. There is an oven in front of the house with a small patio ideal for barbecues. In addition to the huge clay and schist walls, the house has doors and windows with great thermal and acoustic insulation. The house is divided into two floors. On the ground floor there is a large living room with kitchen. It opens on to a terrace with a wooden deck, beside a small stream with a waterfall, there's a suite with a four-poster bed and a sitting room with a fireplace and sofa bed.
Surrounding Area
Água Formosa source at 0m
Aldeias do Xisto Shop in Água Formosa at 0m
River beach of Penedo Furado at 5.6km
River beach of Pego das Cancelas at 9.3km
River beach of Cardigos at 9.6km
River beach of Bostelim at 11.6km
River beach of Zaboeira at 12.9km
River beach of Fernandaires at 14.6km
Information
Welcome basket with breakfast products.

Minimum number of nights is 2.
Check-in: 14h00 - 20h00
Check-out: 12h00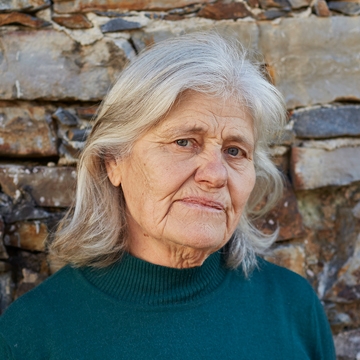 Host
Benvinda Santos
Mrs Benvinda always has delicious snacks/breakfasts available for her guests. Her roots are in the village of Vale das Casas and Água Formosa and she is an excellent guide for walking tours, particularly to Lagar da Ferrugenta along the Ribeira da Galega.
"A tranquilidade da aldeia, casa espaçosa, o aconchego da lareira" November 10, 2019
"Very nice house, very beautiful, quiet village, a great place to relax and get back to nature. Hiking in the beautiful scenery, the friendly hostess was the best, a great welcome, an excellent experience." April 30, 2019
"Comfortable home, nicely decorated, with a log burner for warmth. The silence is only broken by the stream outside and the birdsong. Everything invites you to rest and get back to nature. We walked round the village, we went to the oven and the fountain, we went along the Cascatas trail, which was very beautiful and well-marked, we walked on the Penedo Furado walkway, and sample the cod dishes at the Vila de Rei food festival. We could not have felt more welcomed by the friendly couple who made us feel completely at home. D. Benvinda made a couple of lovely cakes, one sponge and the other coconut, and a warm cornbread loaf that was just delightful with butter... We put on a few ounces... But it was worth it. It was a shame we couldn't stay longer, but we left with the desire to return. A big thank you!" April 18, 2019
Location
Rua da Lage, Água Formosa, Vila de Rei 6610-101
Latitude: 39.6347
Longitude: -8.09997