Casa da Azeitona was specially designed to welcome families. It is decorated by the artist Vânia Kosta and is full of her creative work. This cosy home has two storeys and it can be entered at either level. Entering by the ground floor, you will find the fully equipped kitchen, a dining area, a double bedroom and a bathroom.

Upstairs there's another double bedroom where it's possible to install extra beds and a spacious nest-shaped bed for the little ones. The living space is large and cosy, with a wood-burning stove, an armchair and a comfortable sofa bed. This floor gives access to a terrace overlooking the valley and the enchanting roofs of Cerdeira that are covered with tiles and slates. It's an ideal space for family meals, for reading a book with the comforting background sound of the stream or for counting the stars at night.

Like all the other houses in Cerdeira Village, Casa da Azeitona has been restored using ecological and regional materials, favouring local regional companies.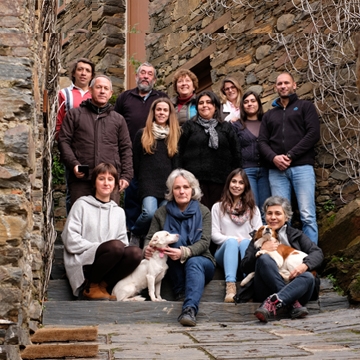 Host
Natália e José
"We first started visiting our friends, Kerstin and family, in Cerdreira 20 years ago. We fell in love with the place and decided to do something to help preserve and restore it. With the help of three generations of the family, we set to work. We restored the first house – the shrines. We loved it. Since then, we haven't been able to stop. Social responsibility and ecological sustainability are basic concepts for us, applied not only during the reconstruction stage, with local labour techniques and use of ecological materials, but also in our day-to-day operation!" Natalia and José.
Location
S/ nome de rua 3200-509
Latitude: 40.09397671819
Longitude: -8.1940635714111